Cooking with home grown herbs
Mix a bouquet garni, greek salad dressing, gyros marinade, italian salad dressing, basil salad dressing and herbes de Provence
By Nick Nutter | Updated 9 Mar 2022 | Andalucia | Recipes | Login to add to YOUR Favourites
or Read Later
This article has been visited 3,414 times
Mixed herbs fresh from the garden
As readers of my gardening article will appreciate, I love growing herbs. Not just because they look good, have flowers that attract bees, butterflies and insects, although those are good enough reasons, but because they taste good as well. So, here we are going to look at just a few of the things you can do with fresh herbs and from there you can use your own imagination.
Mixed herbs plus extras
I use a herb/spice cutter that I treated myself to a few weeks ago and wouldn't be without now. It finely cuts fresh herbs and hard seeds and spices and fruit peel and is happy to then combine everything with oil, vinegar or lemon juice to make the finished dressing. To make the full range of seasonings and dressings you will need, in addition to the herbs;
lemons
balsamic vinegar
virgin olive oil
honey
sweet paprika
hot paprika
ground cinnamon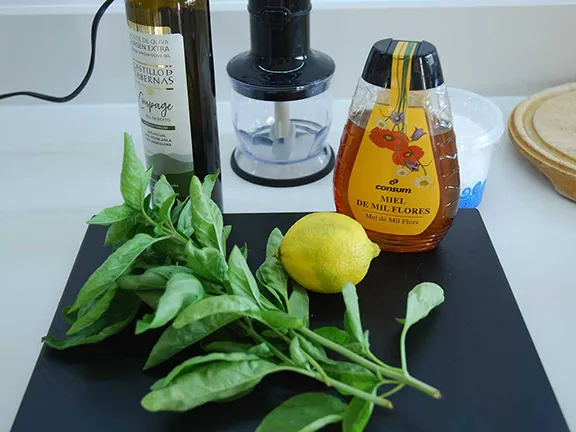 Basil dressing ingredients
The basic herbs that I grow and can pick at any time of the year are:
rosemary
thyme
sage
parsley
marjoram
bay
chives
mint.
Grown and available from spring to late autumn I have tarragon and oregano.
Grown from seed and ready late spring to early winter there is basil, coriander and dill. I also grow chilli peppers and garlic in any odd spaces in the herb garden.
OK, lets use those herbs
Bouquet Garni
This is the classic flavouring in lighter casseroles, stews and bouillabaisse;
1x bay leaf
sprig of thyme
small bunch of parsley
Greek Salad Dressing
Remember those Greek salads you had sat at a rustic table overlooking an azure blue sea? A simple dish of lettuce, tomatoes, cucumber, black olives and feta cheese, enhanced with a Greek dressing that gave it that unique flavour. You probably even said, 'why does it not taste like this at home'. Well now it can;
½ cup oregano leaves
½ cup mint leaves
¼ cup parsley
1 garlic clove
2 tbs fresh thyme leaves
pinch salt
Put everything in the herb chopper and chop finely. At this stage the dressing can be sprinkled on top of the salad and the salad dressed with oil and vinegar. Leave for 30 minutes or so to allow the flavours to mingle. That is how the Greeks normally do it.
For something for say, a dinner party, where presentation is important, then produce a thick pouring dressing by adding olive oil and either white wine vinegar or lemon juice to taste.
Greek Salad Dressing to Gyros
To the dry dressing ingredients add;
1 tbs hot paprika
1 tbs fresh coriander
1 tsp ground cinnamon
1 cayenne chilli pepper (optional if you like your gyros hot)
You are all set to marinade thin strips of chicken or lamb in the dry dressing for up to 24 hours before frying until browned and cooked. Pitta bread, a Greek salad and you could be back in Greece or Turkey where they call the same thing doner.
Italian Salad Dressing
Italian seasoning is a blend of finely chopped herbs that commonly includes basil, oregano, rosemary, thyme, garlic and sage, or coriander. Start off with these proportions and adjust to your own taste;
½ cup basil leaves
½ cup oregano leaves
2 tbs rosemary
2 tbs thyme
1 garlic clove
2 tbs sage or coriander
pinch salt
As with the Greek salad dressing, you can sprinkle the dry mix over a Caprese or Tricolour salad and dress with oil and vinegar or you can produce a thick dressing by adding olive oil and white wine vinegar.
Italian basil salad dressing
This is super simple and a real summer treat.
1 cup basil leaves
pinch salt
4 tbs olive oil
1 tbs balsamic vinegar
or
lemon juice and honey
Mix everything together in the herb chopper until you have a thick dressing that barely pours. Adjust the thickness with more basil or more oil.
Herbes de Provence
Herbes de Provence is similar to Italian herb mixes, which makes sense considering the geographical proximity of Provence to Italy. The mix usually includes equal quantities of rosemary, marjoram, thyme, and oregano, and often also features sage and tarragon.
Note: This article may contain affiliate/compensated links. That means that if you book through our link, we may earn a small commission (at no extra cost to you). For full information, please see our disclaimer here.
---
---