The Amarguilla Treasure
One of the best collections of jewellery in the Archaeological Museum of Córdoba, Andalucia
By Nick Nutter | Updated 11 Apr 2023 | Córdoba | News | Login to add to YOUR Favourites
or Read Later
This article has been visited 2,514 times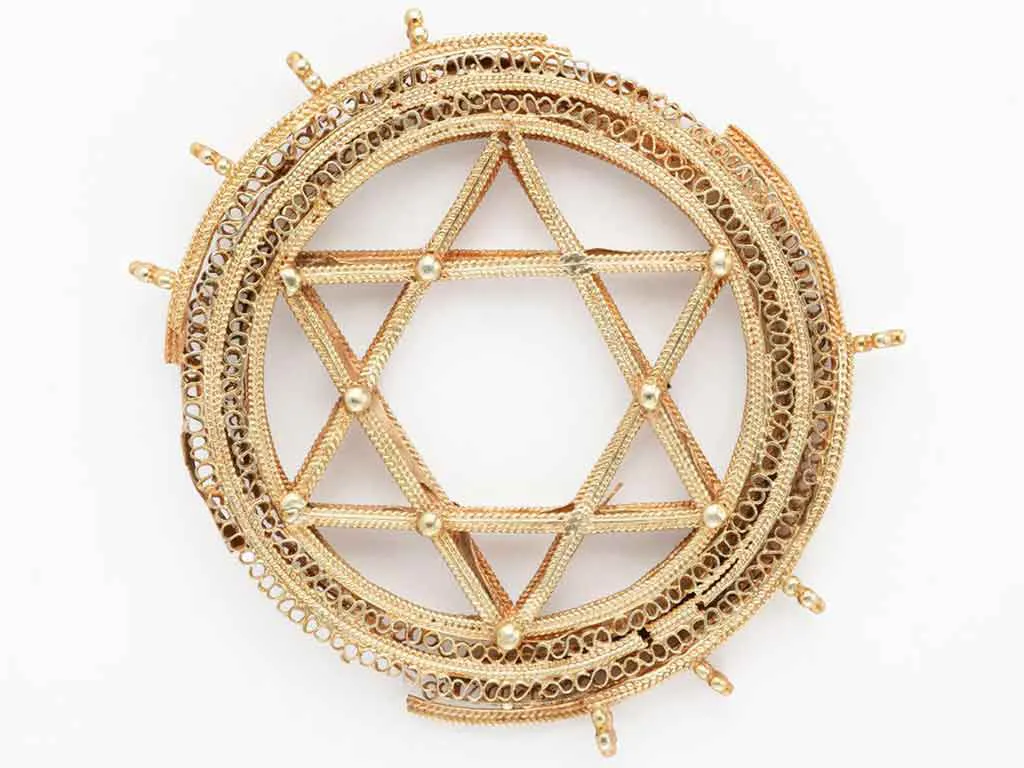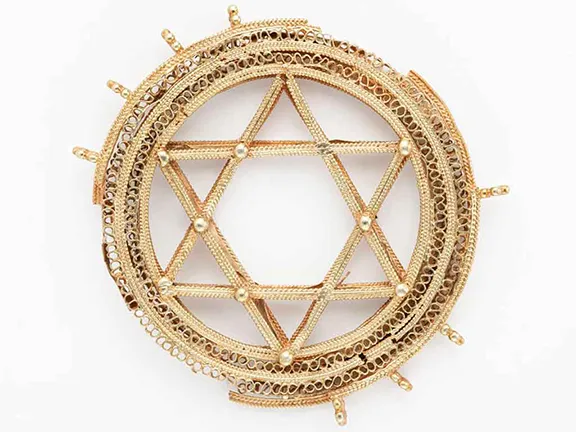 Amarguilla treasure - Star of David
In 2020, a keen eyed archaeologist in Cordoba province, spotted several pieces of jewellery for sale on social media. The pieces appeared to be from the 11th century and as such would be of enormous archaeological importance as well as being illegally traded. The archaeologist informed the National Police and the hunt was on for the person responsible for the social media post.
Amarguilla treasure - Silver ring
Their investigation led to an individual who claimed to have found the pieces on the Amarguilla estate near Baena, and an industrial unit in which the police made an incredible discovery. The individual was in possession of 623 pieces of 11th century jewellery including 98 pieces of gold, silver and gold plated silver. Among the gold pieces are four wrist and ankle bracelets, whose joiners are shaped to look like a bird's heads, as well as a delicate Star of David set within a gold ring. Also of note are 14 quartz and rock crystal gems, four cylindrical pink coral beads, 31 cylindrical glass paste stones in different colours and 476 irregular pearls and pearl beads. The find is the "11th century's best collection of jewellery," according to Alberto Canto, professor of archaeology at the Autonomous University of Madrid. The individual apparently intended to turn his find over to Baena City Council.
Amarguilla treasure - Silver bracelet
"It is simply spectacular," says Canto, one of the world's leading specialists in Al-Andalus and a researcher of the Medina Azahara archeological site. "I have not seen anything like it. It is impossible to know who hid it or to whom it belonged, because it lacks coins, but most likely it belonged to a Jewish individual, since there is a Star of David among the pieces. It also looks like a bride's trousseau, because it includes many pieces that would be attached to tunics."
The lack of any coins raised a question for Professor Canto. "All Umayyad Caliphate treasures include coins, which suggests that, in this case, they have been sold because these kinds of pieces sell easily, while the jewellery does not. No antique dealer or collector would buy them [the jewellery pieces]. The lack of coins makes it difficult for us to establish exactly when it was buried. But I am leaning towards the beginning of the 11th century."
Nevertheless, a reasonable assumption has been made as to who buried the hoard, when it was buried and why. The story begins in the year 1009 AD.
In that year a civil war broke out in the Caliphate of Cordoba that lasted 20 years. The war, between two factions, was over who should control the southern parts of al-Andalus and resulted in the break up of al-Andalus into numerous Taifas each with its own ruler. This was a period of political instability and it is surmised that a wealthy Jewish family hid the treasure in a bag or a ceramic container and buried it near Baena. Whatever happened to the family to prevent them returning to what, even then, would have been a considerable fortune, is unknown.
The treasure was eventually claimed by the Junta de Andalucía who passed it on to the museum of Córdoba for over 12 months of restoration to restore the pieces to their original condition. The director of the Archaeological Museum of Córdoba said, "It is one of the best collections of jewellery we own, the six-pointed star is unique. There is nothing like it, making it extraordinarily valuable."
Many of the pieces are now on permanent display at the Archaeological Museum of Córdoba.
Note: This article may contain affiliate/compensated links. That means that if you book through our link, we may earn a small commission (at no extra cost to you). For full information, please see our disclaimer here.
---