Canyoning in Cañón de las Buitreras near El Colmenar
Between El Colmenar and Cortes de la Frontera, the river Guadiaro drops over 100 metres through the Cañón de las Buitreras (Vultures' Canyon)
By Nick Nutter | Updated 29 Aug 2022 | Málaga | Places To Go | Login to add to YOUR Favourites
or Read Later
This article has been visited 4,380 times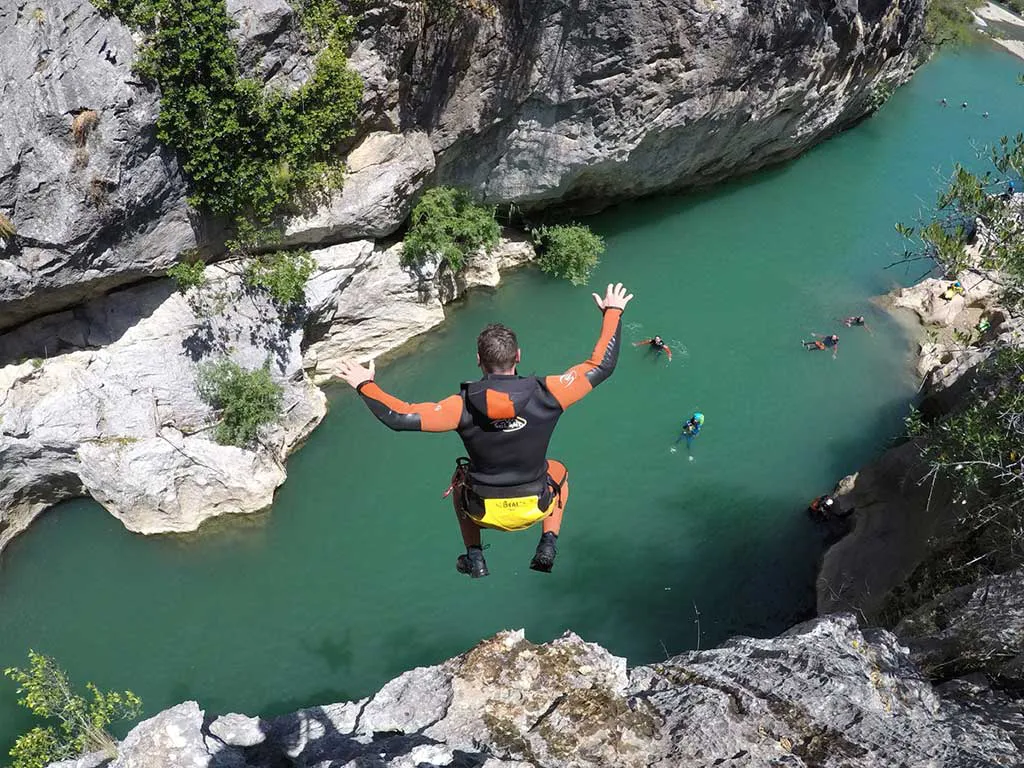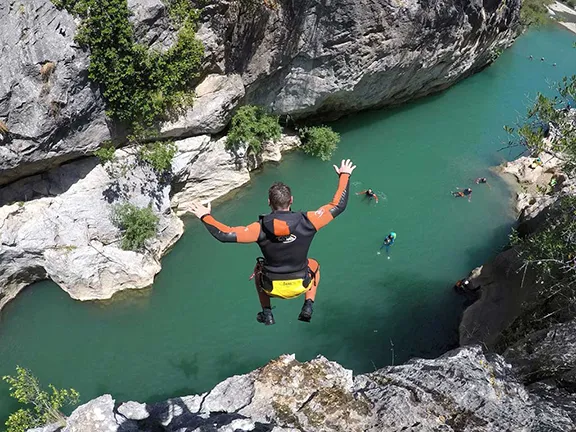 Cañón de las Buitreras Copyright: Reserva Sierra Grazalema (2019)
If the activity involves putting on a wetsuit, helmet and abseiling harness, leaping off high ledges and swimming through perishing cold water, then I have to say, sad person that I am, that I am up for it. At 68 years of age, I am too old for the serious caving I used to do but not too old for this. I still love the adrenaline rush. The advantage of doing this stuff in Andalucia as opposed to the UK is that when you get dry and change, you do so in warm sunshine rather than stood in a snow drift in freezing drizzle. Oh, the activity, yes, its canyoning, and where better to start than a canyon rated at 2.5 (that's sort of medium difficult), the Cañón de las Buitreras (Vultures' Canyon).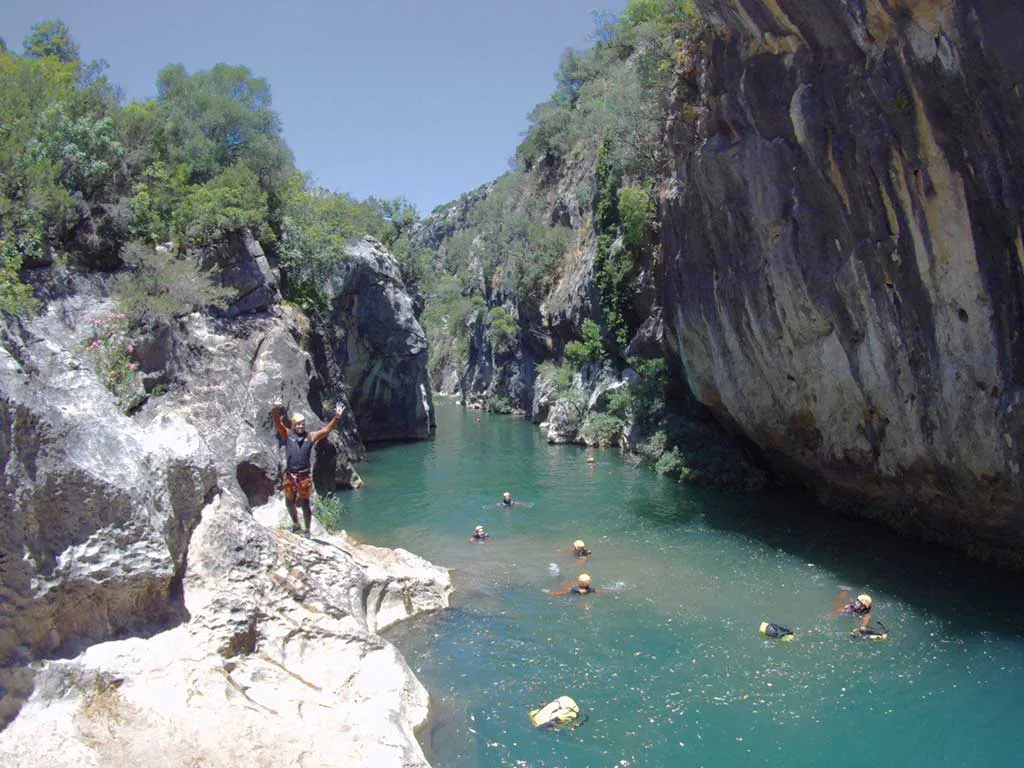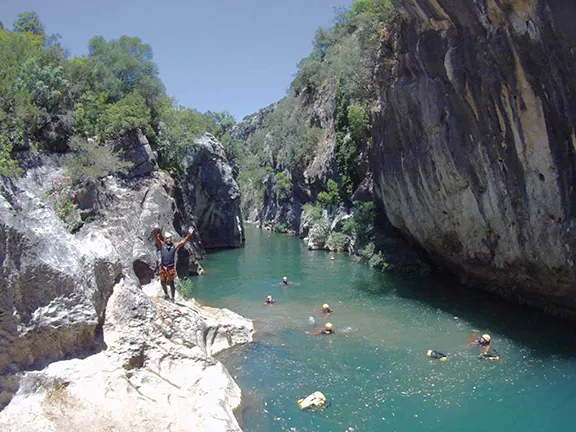 Only 183 kilometres long, the Rio Guadiaro flows from the Sierra Bermeja, south through part of the Sierra de Grazalema, skirts the eastern edge of the Alcornocales National Park before passing through orange groves and entering the Mediterranean Sea at Sotogrande. Though short in length, the Guadiaro has carved out of the limestone rock one of the most spectacular and beautiful gorges in Andalucia, the Cañón de las Buitreras (Vultures' Canyon).
Cañón de las Buitreras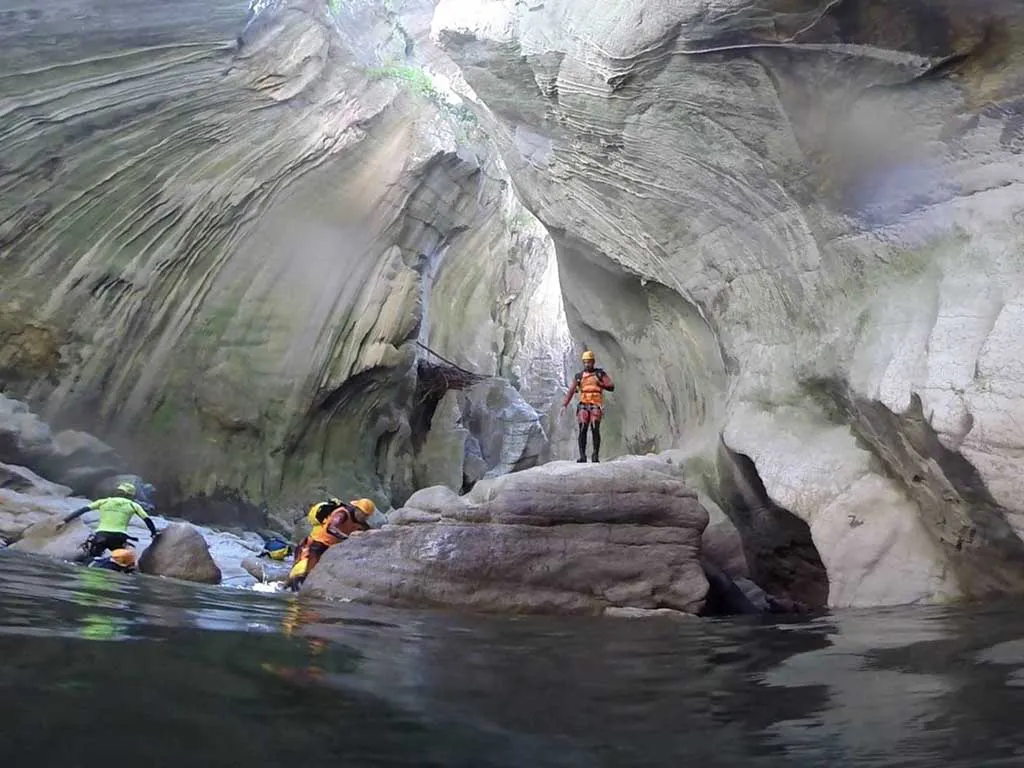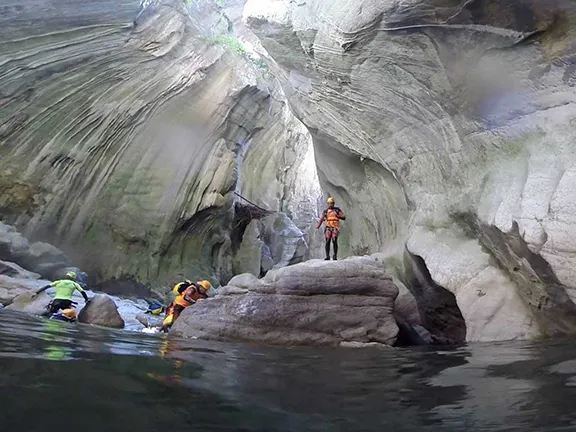 Between El Colmenar and Cortes de la Frontera, the river Guadiaro drops over 100 metres. From above, the resulting gorge is a kilometre long scar down the mountain. On either side are woods of holm oak, juniper, mastic and carob trees together with the only autochthonous European palm tree, the palmetto. Within the walls of the gorge, families of Griffon vulture form a large colony, hence the name. On the floor of the canyon, cascades and waterfalls interspersed with deep pools are a haven for otters, dippers and doves.
This wild and beautiful place is well known to the locals, the pools providing refreshing swimming holes in summer, but relatively few have journeyed down the length of the canyon. Even fewer visitors to the region have ventured down the Cañón de las Buitreras.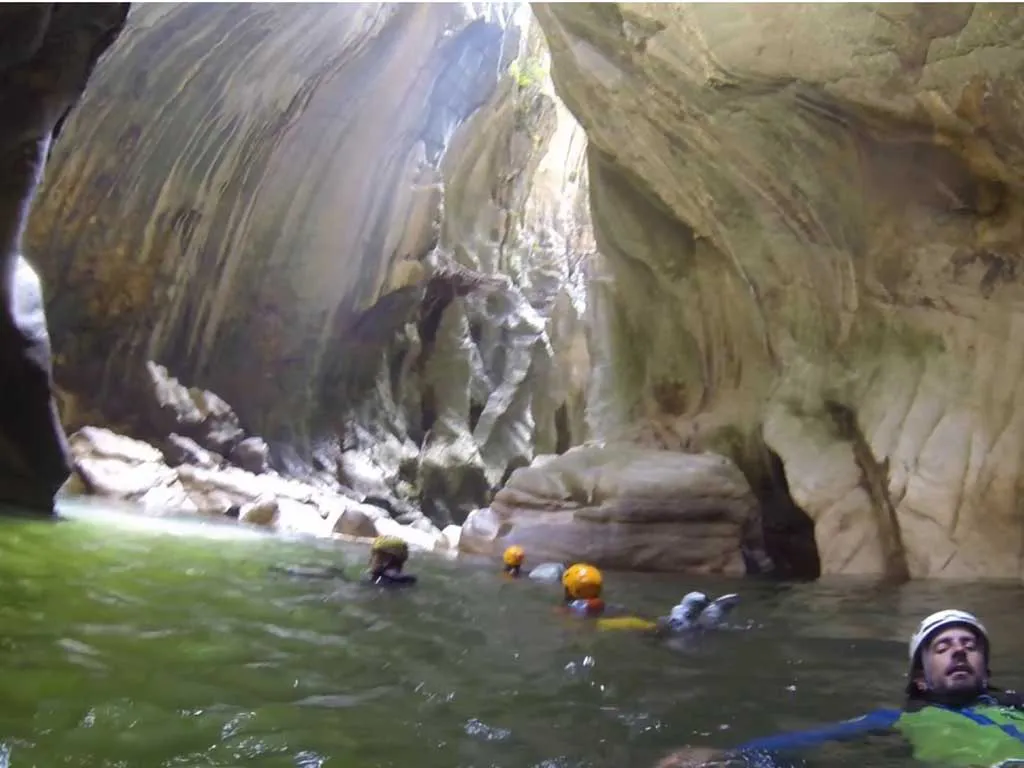 The safest way to see this natural wonder is by taking a guided tour. Local guides take small parties through this iconic geological formation. The trip takes about six hours and all equipment such as canyoning suits, lifejackets and helmets are provided.
I am happy to relate that the experienced guides make sure you are not left behind as food for the vultures that wheel overhead in hopeful anticipation.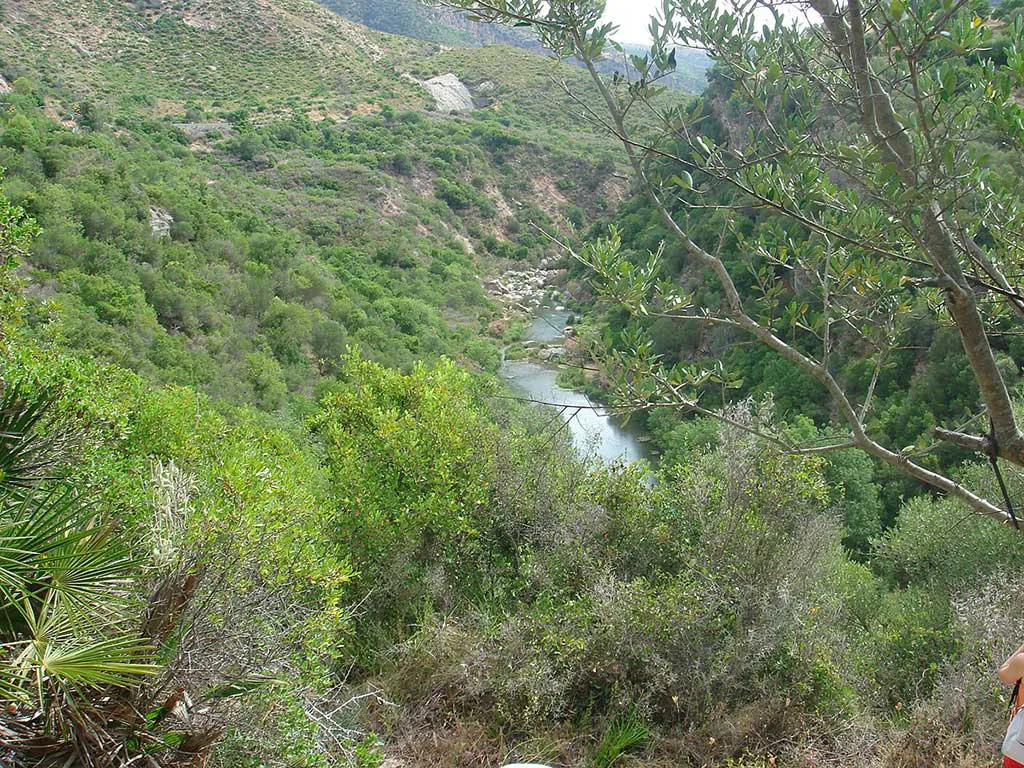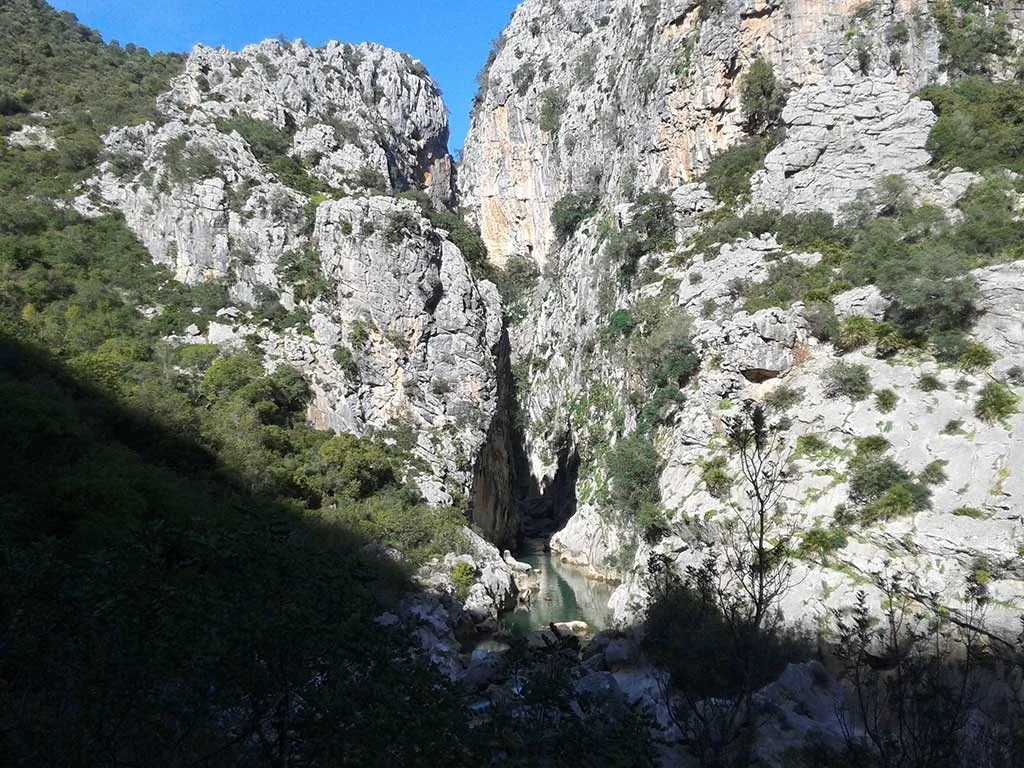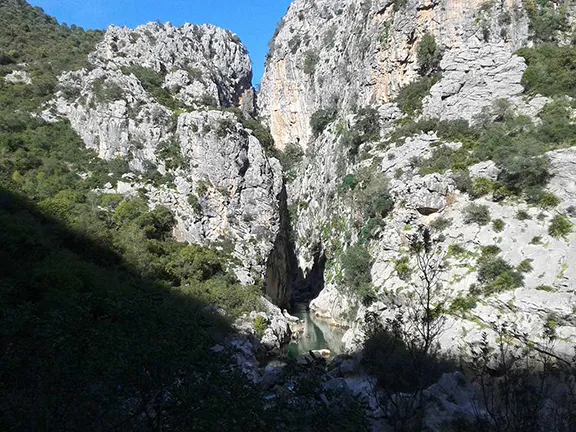 Note: This article may contain affiliate/compensated links. That means that if you book through our link, we may earn a small commission (at no extra cost to you). For full information, please see our disclaimer here.
---
Do not miss visiting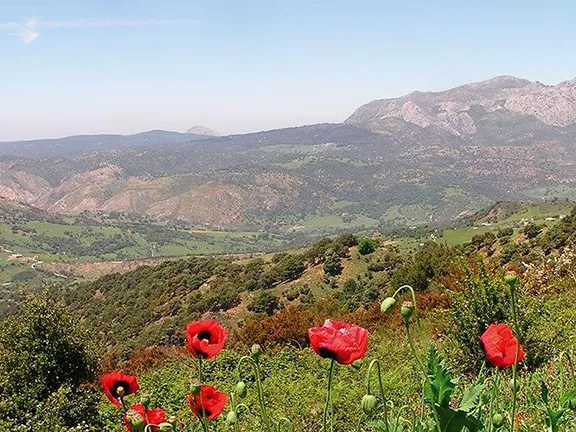 Cortes de la Frontera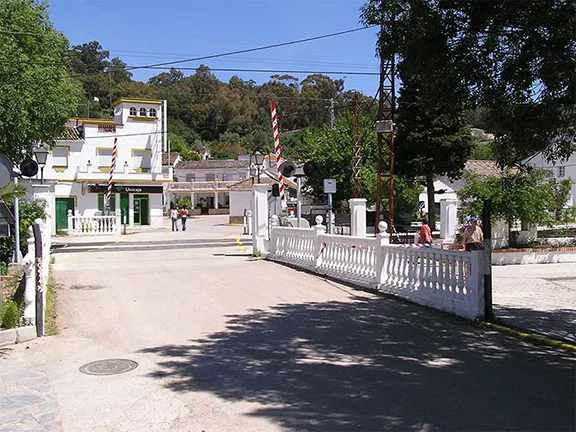 El Colmenar
---