The English Cemetery
Hans Christian Anderson described the English Cemetery at Malaga in Andalucia as my favourite place in Malaga
By Frank Griffith Dawson PhD Cantab | Updated 29 Aug 2022 | Málaga | Places To Go | Login to add to YOUR Favourites
or Read Later
This article has been visited 9,317 times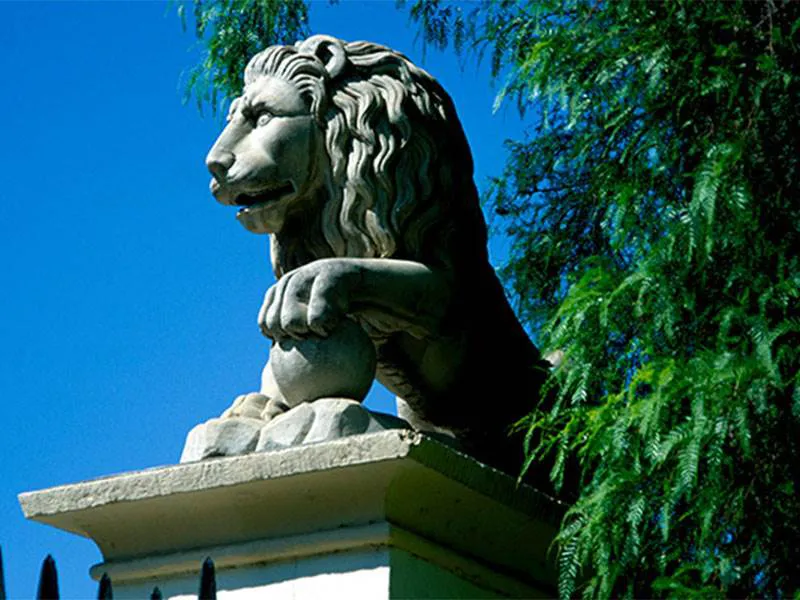 British Lion
My Favourite Place in Malaga
Each year thousands of holidaymakers land at Malaga airport and then quickly disperse to the beaches and golf courses of the Costa del Sol without visiting the town itself. Hans Christian Anderson however, would have urged them to linger at least to see the English Cemetery that the creator of the Little Mermaid described as "my favourite place" in Malaga.
Founding the Cemetery - Heretics, Protestants and Lutheran Dogs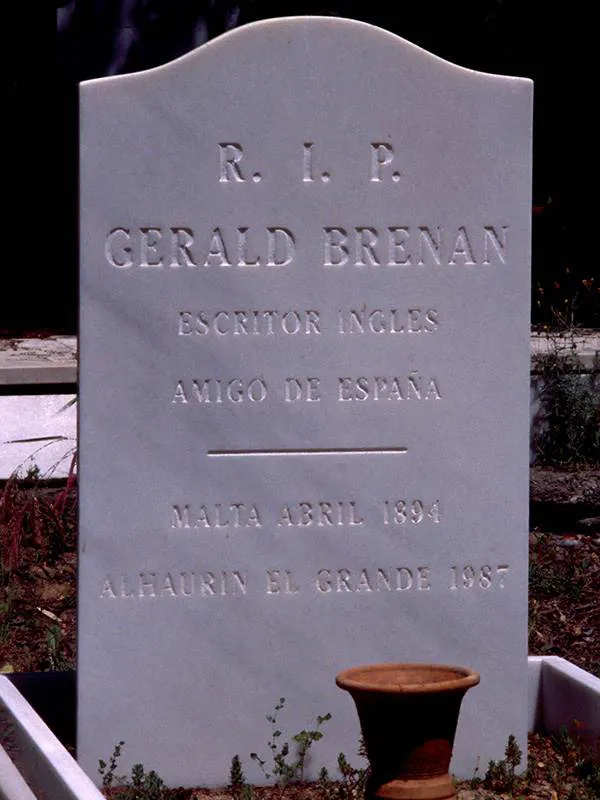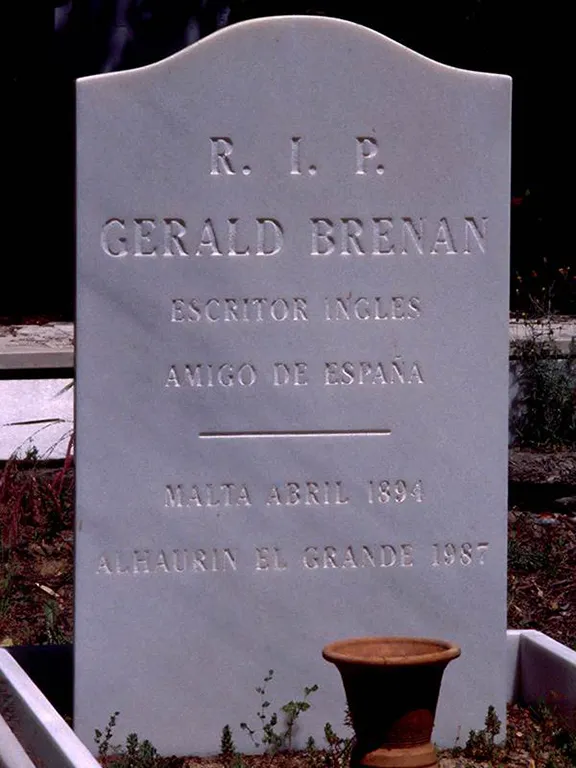 Gerald Brennan
Andersen visited Malaga in 1862, thirty one years after the cemetery opened. Before that, English Protestants, being deemed heretics, had been denied burial in Catholic churchyards and cemeteries. Indeed, in Malaga they were interred at low tide on the beach from whence their corpses were washed out to sea to the consternation of fishermen and grieving relatives alike.
Protestant Cemeteries
The situation changed in 1830 when Spanish King Ferdinand VII, bowing to British diplomatic pressure, initiated by William Mark, British Consul in Malaga, officially allowed the establishment of Protestant cemeteries in towns where British Consuls resided. Mark had by then obtained local permission to acquire land for his small cemetery about a mile from the centre of town upon a hillside slightly above the beach to the east of the old Moorish fortress.
Lutheran Dogs
When the cemetery was opened, according to contemporary travel writer Richard Ford, a plaque was placed over the entrance 'recording the royal permission, above that a cross'. The Malaguenos were
"amazed when they beheld this emblem of Christianity raised over the last home of Lutheran dogs", wrote Ford. Today the amazement has long abated and the heavy wrought iron entrance gates are now flanked by two pillars atop each of which sits a, presumably British, lion with a forepaw resting on a stone globe.
Mark's First Customer and the Execution of Robert Boyd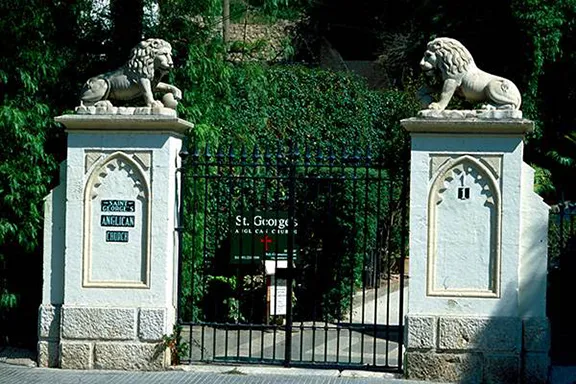 Cemetery Gates
Mark's first 'customer' was the drowned owner of an English brig that had put into Malaga harbour. The second was Robert Boyd of Londonderry, an idealistic young army officer who foolishly enlisted in an expedition led by an exiled Spanish general to overthrow despotic King Ferdinand. With his Spanish companions he was quickly apprehended shortly after landing at Malaga and summarily shot on the 11th December 1831, 'in the sacred cause of liberty', according to his monument's inscription, "aged twenty six". This summary execution of a British subject provoked a political storm in London. Questions were asked in Parliament, the press railed against the reactionary Spanish monarch.
Richard Ford was in Spain at the time of Boyd's execution and, on January 11th 1832, wrote to his friend Henry Addington, British Envoy Extraordinary and Plenipotentiary in Madrid, that Mark, 'is gone wild about the Malaga events and the execution of Mr. Boyd. In his heart I believe he was as glad as a young surgeon to get a subject for his new churchyard. He certainly has a hankering after my wife's body, not her live body, but, hearing of her ill health, tried all in his power to get me to Malaga to have a pretty female specimen in his sepulchral museum'.
The Consul's Monument
The Consul's monument, one of the cemetery's most prominent memorials, is a tall, fluted column surmounted by an urn draped with a mourning cloth. Erected by his widow, the inscription on the large, rectangular block upon which the column is based modestly records that Mark was born in Berwick upon Tweed on 6th March 1782 and died at Alhaurin, a village near Malaga on 13th January 1849. It does not recount his rise from humble beginnings, his distinguished career in the Royal Navy or his service under Nelson. Nor does the inscription inform us, as his great grandson subsequently revealed, that he was known as 'Old Pomposo' at Malaga where his insistence on regularity in the life of his household became a byword - and where it was humorously observed that his wife produced his offspring always at regular intervals.
Mark joins his guests
Four months later, the painter and future Royal Academician, David Roberts, spent three weeks with the Mark family during an extensive sketching trip in Spain. According to Mark's journal, he took Roberts on a tour of the cemetery 'where observing the pains I was taking to improve the situation, by planting trees in the adjoining ground, thereby forming an agreeable promenade', he made a drawing which he 'transferred to a lithographic stone that I may have numerous copies for the use of my friends'. Mark extended his hospitality to many other visitors, both living and dead, until 1849 when he joined Boyd and his companions in the 'sepulchral museum'.
Handbook for Travellers in Spain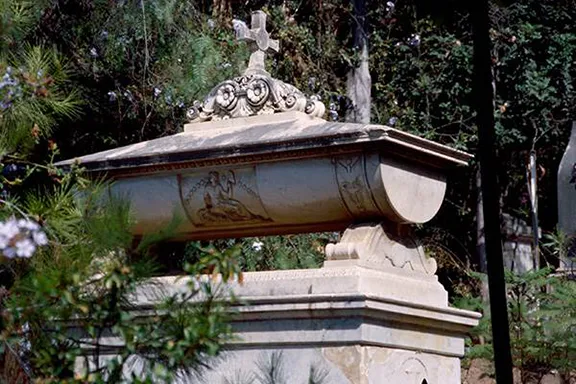 The Consuls Monument
Meanwhile the cemetery's fame as a 'must' for the tourist itinerary had been assured when in 1845 John Murray in London published Richard Ford's two volume 'Handbook for Travellers in Spain' to wide critical acclaim. Despite its price, small print and over 1600 pages, 389 copies were sold in the first three months and it quickly became an essential accompaniment for English travellers daring to venture south of the Pyrenees into Spain, the land of brigands and civil war.
Ford's sense of humour is evident throughout. He urged travellers to Malaga to visit the cemetery, 'because it was the first permitted in our times for the repose of our heretical carcasses, which used to be buried in the sea sands like dead dogs, and below the low water mark; and even this concession offended orthodox fishermen, who feared that their soles might become infected.'
The cemetery also proved to be, 'a grand perquisite to the sexton, who when he had a grave to dig, was merrier at his work, as Shakespeare knew, than any unoccupied prince or bored and boring courtier.'
Americans Take Up Residence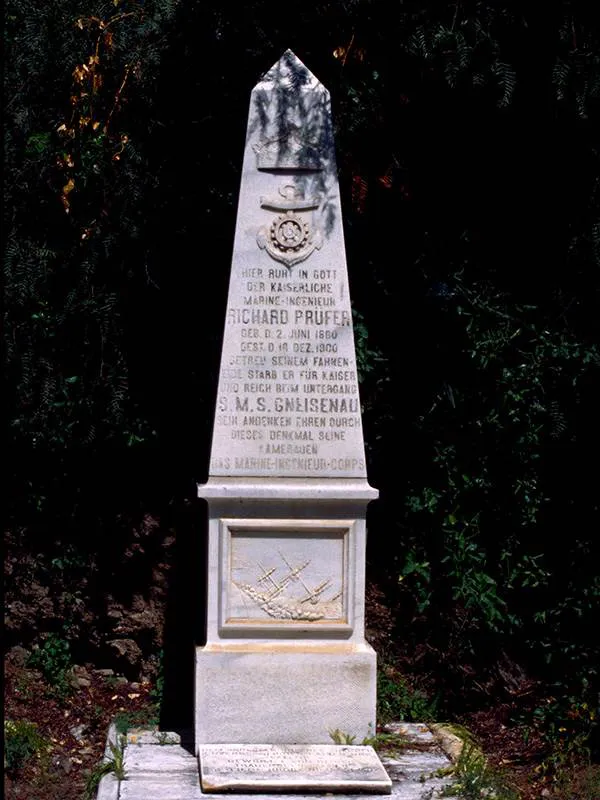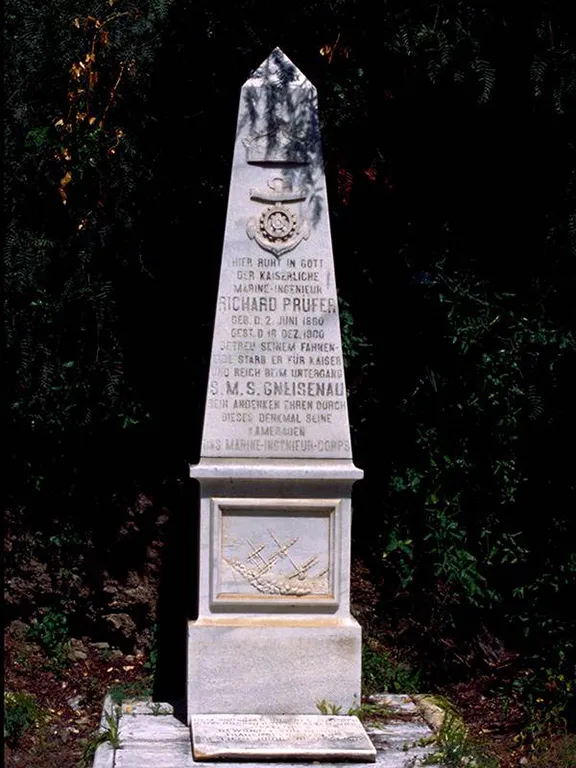 Gneisenau Monument
By the middle of the century, Malaga had become a busy commercial port with a substantial foreign community. Even Americans took up residence. One particular elegant, elevated rectangular tomb with scrollwork on its rounded corners is that of;
William P Beecher Citizen of the US of America Born in New Haven, Connecticut VII January MDCCLXXXXVII Died in Malaga XXIV October MDCCCL As a tribute to Departed Work THIS TOMB erected by his mourning friends is destined to commemorate the merits of His useful life
Children's Graves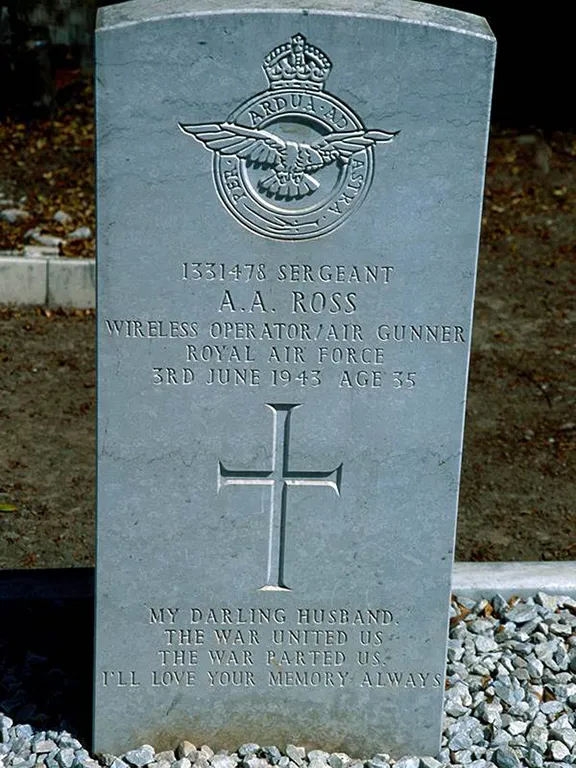 Wireless Operator A. A. Ross
In the older, walled part of the cemetery over thirty small rectangular children's graves, encrusted with seashells as symbols of immortality, also suggest that Malaga's climate was not always as benign as represented. One particular poignant reminder is a group of three tiny graves surrounded by a rectangular, low iron fence commemorating Henrietta, Graeme and Catherine Boyle who all died within two years in the 1840's. Nor are all the children here English. Carl Herman Schopel was born in Hamburg on 14th April 1849 and died in Malaga on 3rd July 1852. Two French children lie near by.
It is impossible to conceive any thing prettier
Meanwhile William Mark's son and successor as Consul continued the care and embellishment of the cemetery with palms, eucalyptus, yucca, plumbago, wisteria and jasmine so that by the 1850's it became a popular gathering place for the living as well as the dead. The mining engineer and geologist Captain S. E. Widrington of the Royal Navy wrote of Málaga that:
'the greatest modern ornament of the place is undoubtedly the English burying ground. It is impossible to conceive any thing prettier than this spot, which is resorted to in the fine evenings, not only by resident foreigners, but by great numbers of Malagueños who have sufficient taste and liberality to admire both the arrangement and the object of it.'
Hans Christian Anderson
In 1862 Hans Christian Anderson was so entranced after visiting the cemetery that he recalled that he had:
'walked in a most lovely garden. Here were myrtle hedges with blooms for thousands of bridal wreaths; tall geranium bushes encircled memorial tablets. Passion flowers twined their tendrils over many gravestone and pepper trees drooped their weeping branches over many a resting place. Here stood a solitary palm, there a rubber tree. Pretty children with laughing eyes played there. The whole garden is encircled by a hedge of wild cactus, over which one looks down to the broad, rolling sea.'
Celtic Crosses
The style of many memorials suggests they were ordered from catalogues published by monument makers in late Nineteenth Century Britain. For example, a larger than life robed angel embracing a cross towers over the grave of 'Anne, the beloved wife of Edwin Plewes of Seville, who died at Málaga on 8th June, 1872, aged 43 years'. Similar Victorian images elsewhere in the cemetery include the winged hour-glasses, draped funery urns, clasped hands and rugged crosses shaped like tree trunks still found in old cemeteries in Britain. Those interred also include a Fellow of the Royal Geographical Society, a barrister and member of Lincoln's Inn, a young man from London's St. John's Wood, and Elizabeth Martha Stewart of Kingstown, Ireland who died in 1870 and is commemorated by a seven foot tall elaborately carved, Celtic cross.
Sinking of the Gneisenau
The cemetery was gradually expanded and by December 1900 could accommodate the mass burial of 62 officers and men of the Imperial German Navy's training ship 'Gneisenau' which sank just outside Málaga harbour. Allegedly the Captain when warned of an impending storm refused to fire up his cold boilers and put to sea, maintaining that his vessel could ride out the tempest. Unfortunately, his judgement proved disastrous and his ship was dashed to pieces against the rocks of the eastern harbour breakwater.
Some forty years later four other bodies recovered from the sea were brought to this hillside - an Australian Royal Air Force Flying Officer, a Royal Navy Commander and two RAF radio operator - air gunner Sergeants. Their white headstones lie in a single neat row, side by side in a white, gravelled rectangle a few yards away from Robert Boyd's memorial. One epitaph, that of Flight Sergeant C. A. Ross, particularly cleaves the heart:
My darling husband The war united us The war parted us I'll love your memory always
Gerald Brenan - The Spanish Labyrinth
Until recently members of the English and Spanish Protestant community could still be buried in the cemetery. One of the most notable recent burials was Gerald Brenan, celebrated author of 'The Spanish Labyrinth', banned by Franco, 'South from Granada' and other modern classics about Spain.
When Brenan died at Alhaurin near Málaga in 1987 he willed his body to the University of Málaga for medical research. Fourteen years later, in December 2001, his ashes were deposited in the cemetery in a small ceremony presided over by the Mayor of Málaga and the Rector of the University. His grave, next to the older, walled portion, bears a simple marker inscribed:
Escritor Ingles Amigo de España. Next to him lies Gamel Woolsey, his American poet wife, beneath a plain stone with a single line from Shakespeare's 'Cymbeline': Fear no more the heat o' the sun
Another, and perhaps in its way equally thought provoking, inscription dates from 1998 and reads:
'Cats and books have been my best friends'.
Hans Christian Andersen would still enjoy his 'favourite place'
Today, a busy avenida and a solid bulwark of square apartment blocks cuts off the cemetery from beach and sea. The view is therefore no longer 'glorious' as it was when described in 1865 by O'Shea. Worse, the hillside above sprouts yet more concrete apartment rectangles, and health concerns have moved the local authorities to prohibit further burials. Nevertheless, the cemetery with its well-tended trees, shrubs and flowering plants still remains an island of tranquillity amidst the surrounding urban sprawl, and offers visitors encouraging reminders of past endurance, faith and sacrifice. Hans Christian Andersen would still enjoy his 'favourite place'.
For opening times of the English Cemetery at Malaga, click here
Note: This article may contain affiliate/compensated links. That means that if you book through our link, we may earn a small commission (at no extra cost to you). For full information, please see our disclaimer here.
---
Do not miss visiting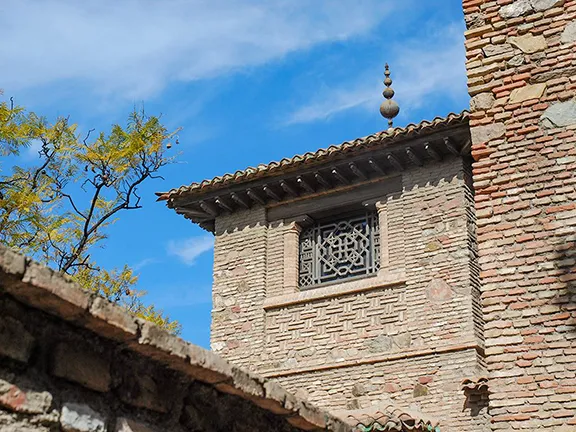 Historical Guide to Málaga City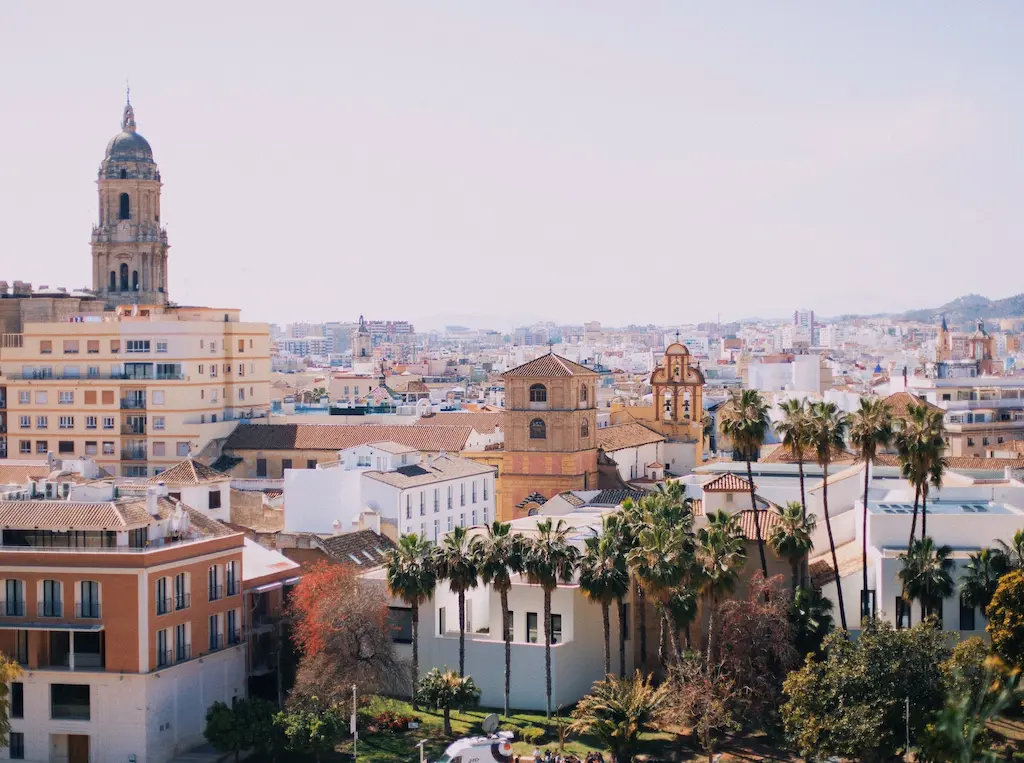 Things to Do in Malaga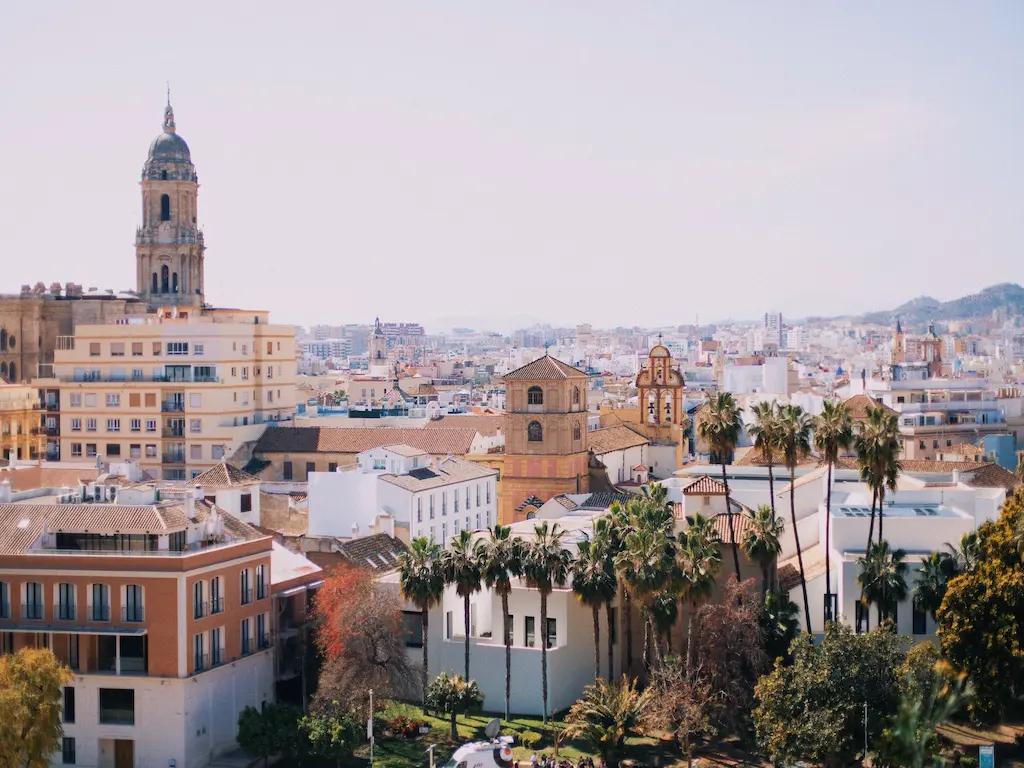 Visitors Guide to Málaga City
Places to go in Málaga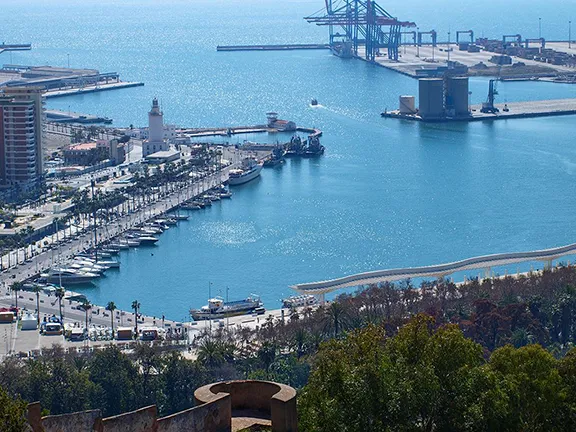 The Port of Málaga
Malaga's Gibralfaro and Alcazaba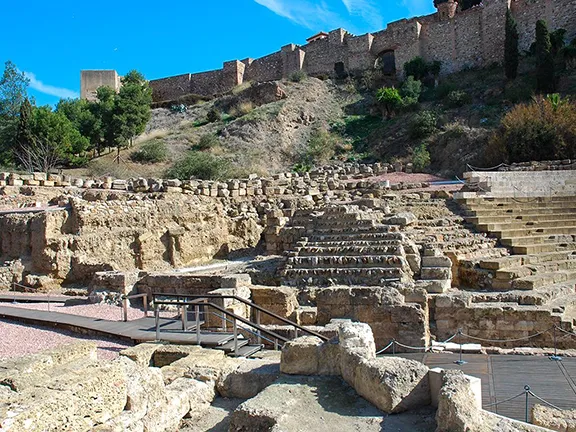 Roman Theatre at Málaga
Museums and Galleries in Málaga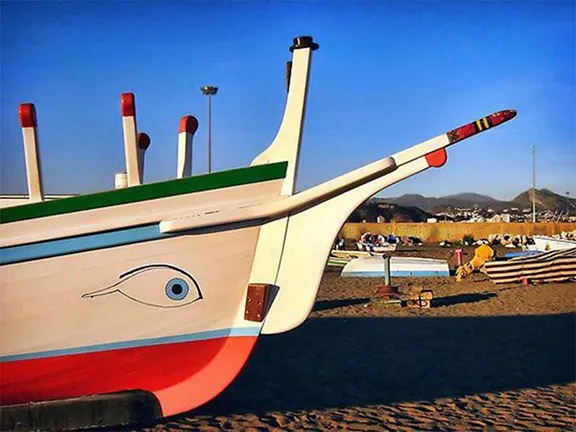 Astilleros Nereo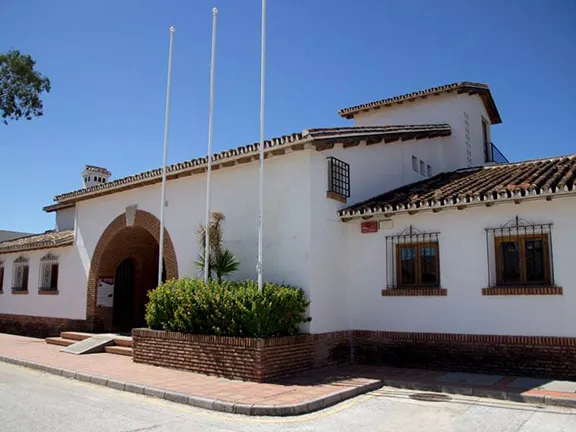 Airport Museum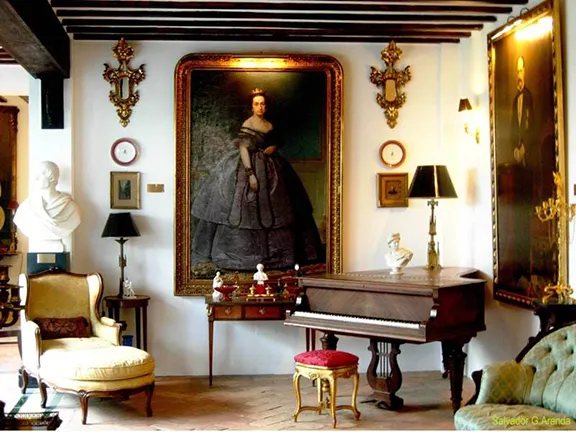 Glass Museum
---