Guide to Garrucha, a Spanish resort and port on the Costa de Almeria
Garrucha, a Spanish resort and fishing port on the Costa de Almeria, Andalucia, Spain is famous for its fish restaurants
By Nick Nutter | Updated 27 Apr 2022 | Almería | Villages | Login to add to YOUR Favourites
or Read Later
This article has been visited 11,086 times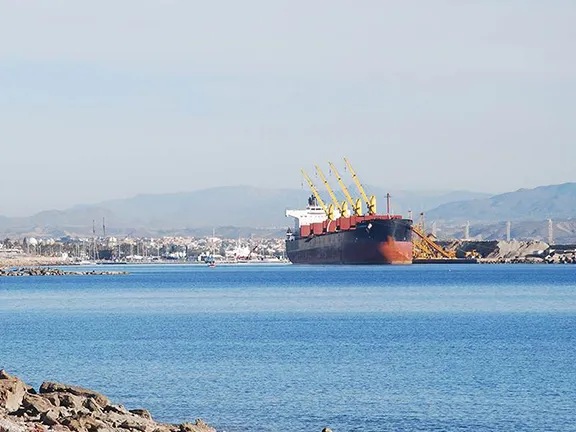 Garrucha port
Sailing at dawn and returning just before dusk, the fishing boats of Garrucha keep the local fish market well supplied. The auction starts at 5.30pm and is packed with local restauranteurs, supermarket buyers, retailers and wholesalers, all bidding using hand held devices. Anybody can visit the market. Follow the action on the big screens that display the name of the boat, the catch and the price. The famous large red prawn is caught in these waters and earned Garrucha the tourist slogan 'sun, sea and seafood'. The local restaurants are well known for the quality of the seafood and sitting at any of them, on the palm tree lined paseo, is a favourite pastime for Spanish families, especially on a Sunday.
Castillo de San Ramón
Castillo de San Ramón
At the southern extremity of the town, defending the entrance to the port is the 18th century Castillo de San Ramón, also known as Castillo de Jesús de Nazareno. This is one of the horseshoe-shaped castles commissioned by Carlos III to defend the coast from the Barbary pirates.
Garrucha history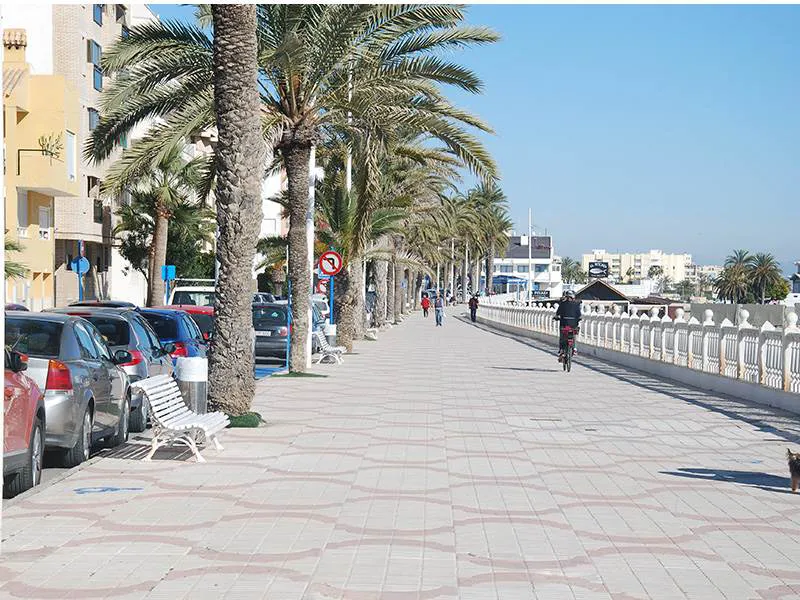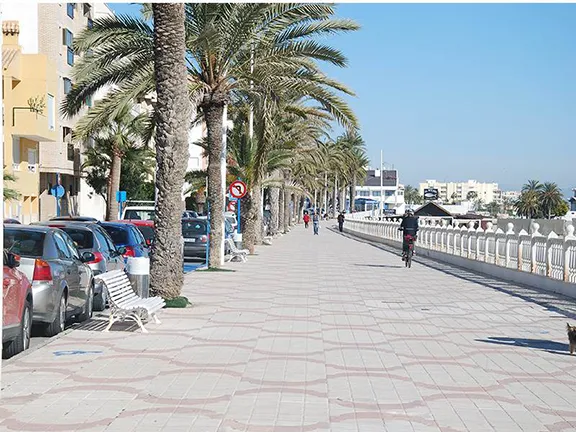 Garrucha paseo
The first written reference to Garrucha is from the 14th century when the Moors referred to it as Almorac Nazari. There is a strange story from this period that the local fishermen, following raids by pirates, took matters into their own hands and built a defensive tower to protect the harbour. The tower was destroyed by an earthquake in 1518, by which time Garrucha was a thriving fishing town.
Garrucha port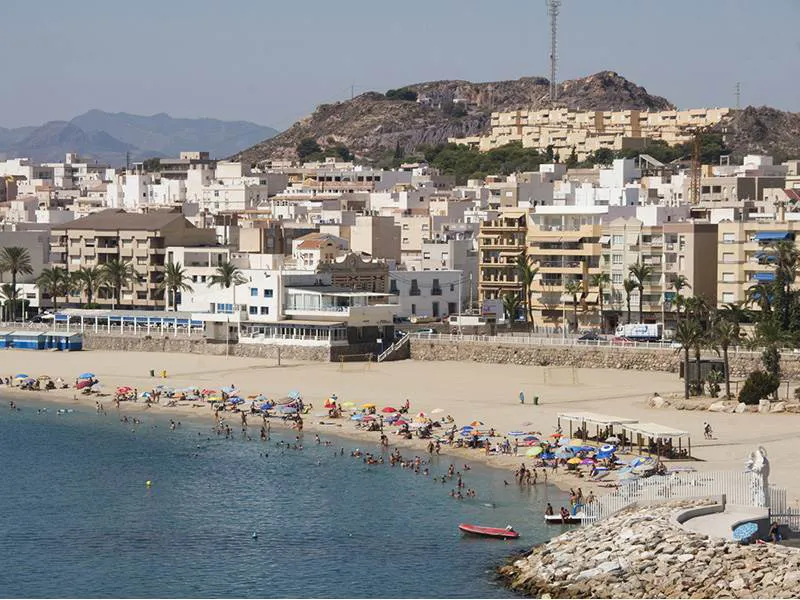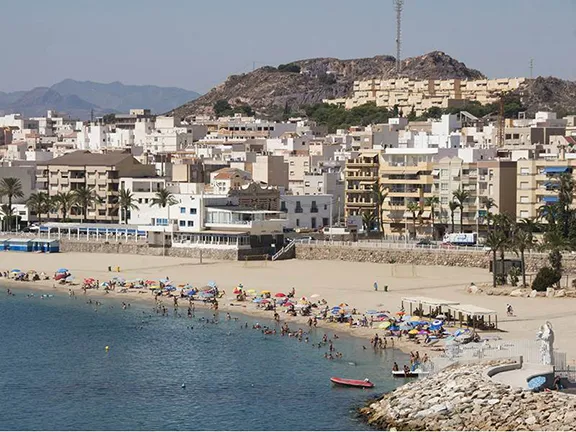 Garrucha playa
The port at Garrucha can take large ships and, during the 19th century, became the port from which much of the metallic ores from the Sierra de Almagro were exported. At the beginning of the 20th century, Garrucha had a considerable trade in lead, copper, silver and iron. Agricultural products were also exported, fruit and esparto grass. Much of the Esparto grass was taken to London (UK) where it was used to make paper. Today, the only mineral passing through Garrucha is gypsum from the mines at Sorbas, one hundred million metric tonnes of it per year. The massive ships dock at the pier opposite the paseo and seem to dwarf that part of town.
Garrucha a tourist destination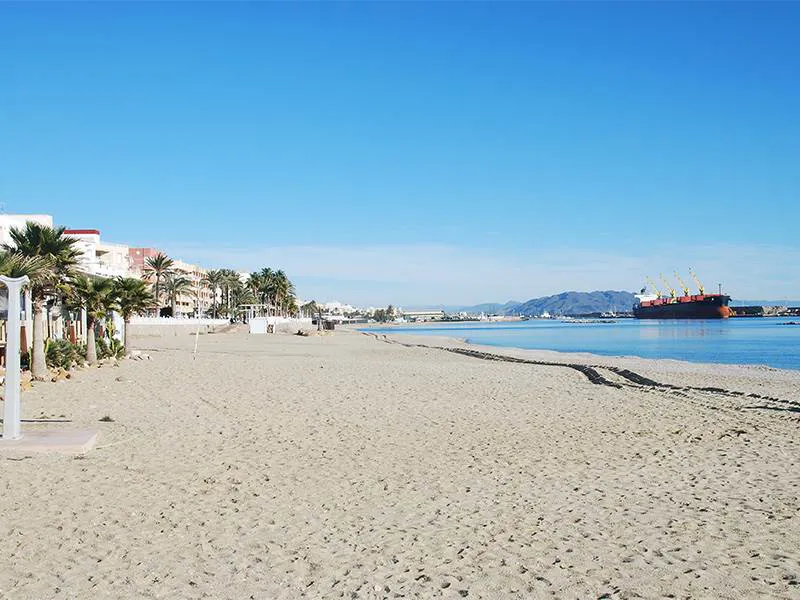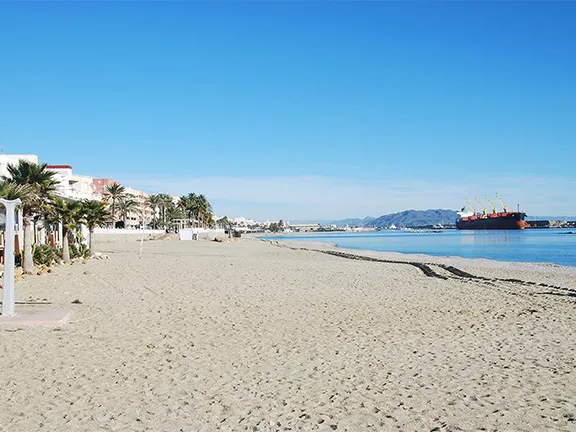 Garrucha playa
During the 19th and early 20th centuries, Garrucha was the residence to the vice-consuls of ten different countries. It became a popular destination for well to do Spanish families and some of the families, whose wealth came from the mines and land, built grand houses along the seafront. Today the tourists are attracted by the long, wide, clean, sandy beaches, and the fish restaurants of course.
Casa Consistorial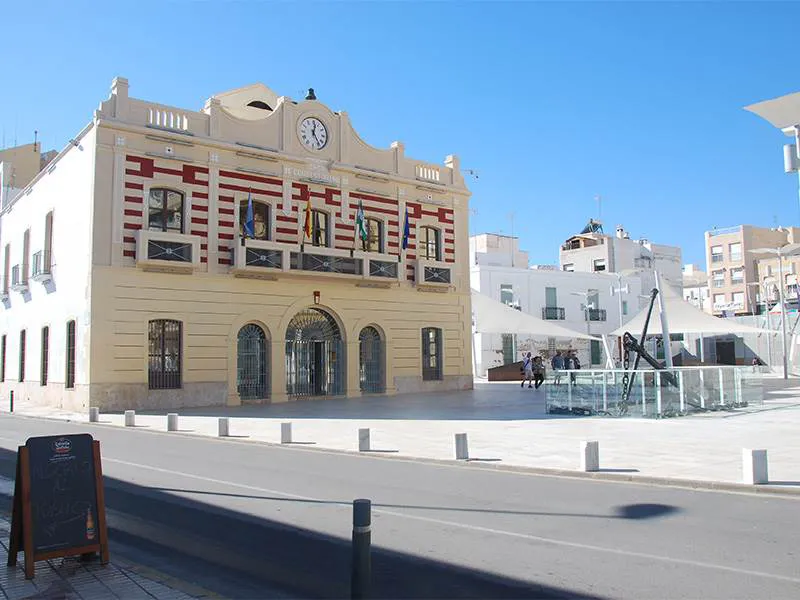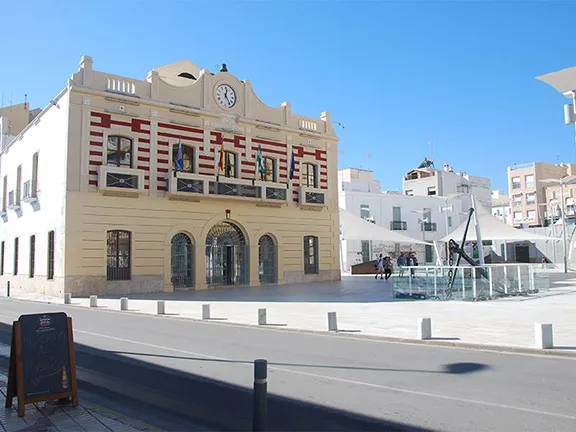 Casa Consistorial Garrucha
Note: This article may contain affiliate/compensated links. That means that if you book through our link, we may earn a small commission (at no extra cost to you). For full information, please see our disclaimer here.
---
---