Visitors Guide to Cádiz: Discover the Oldest City in Western Europe
Plan the ideal visit with our travel guide to Cadiz, the oldest city in western Europe, on the Atlantic coast of Andalucia. Continuously occupied for 3000 years.
By Liza S. | Updated 28 Sep 2023 | Cádiz | Cities | Login to add to YOUR Favourites
or Read Later
This article has been visited 21,522 times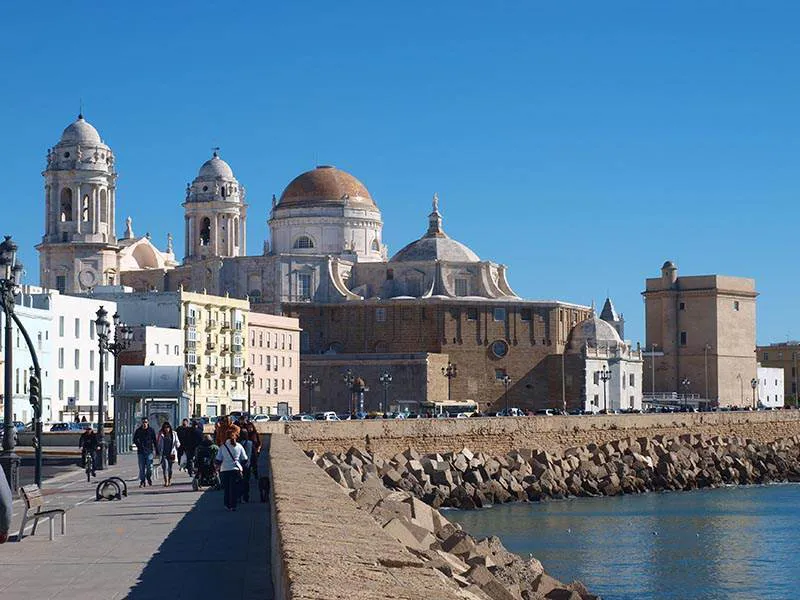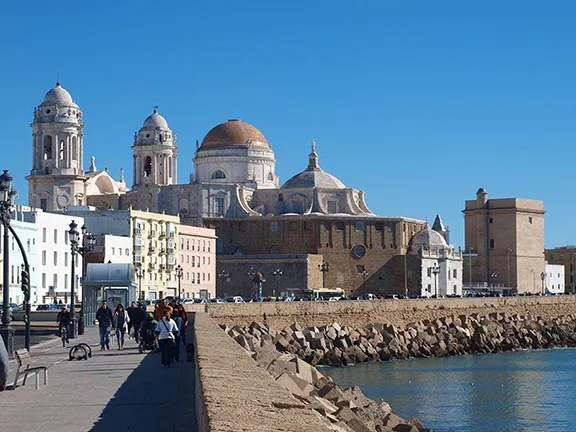 The Cathedral Cadiz
Planning a trip to Andalucia and looking for a unique destination that offers a mix of history, culture, and natural beauty? Look no further than Cádiz, a charming coastal city located in southern Spain. With its stunning beaches, well-preserved historic architecture, and vibrant local culture, Cádiz is the perfect place to explore on foot, by bike, or by boat.
As Europe's oldest continuously inhabited city, Cádiz is steeped in history and boasts a rich cultural heritage that dates back over 3,000 years. From the ancient Phoenician and Roman ruins to the Moorish and Baroque architecture, there is no shortage of fascinating sights to explore.
Whether you're interested in art, history, or simply soaking up the local atmosphere, Cádiz has something for everyone. So why not add it to your Andalucia itinerary and experience the best that this region has to offer?
Read on to learn more about Cadiz and how to plan the perfect visit!
Brief History of Cadiz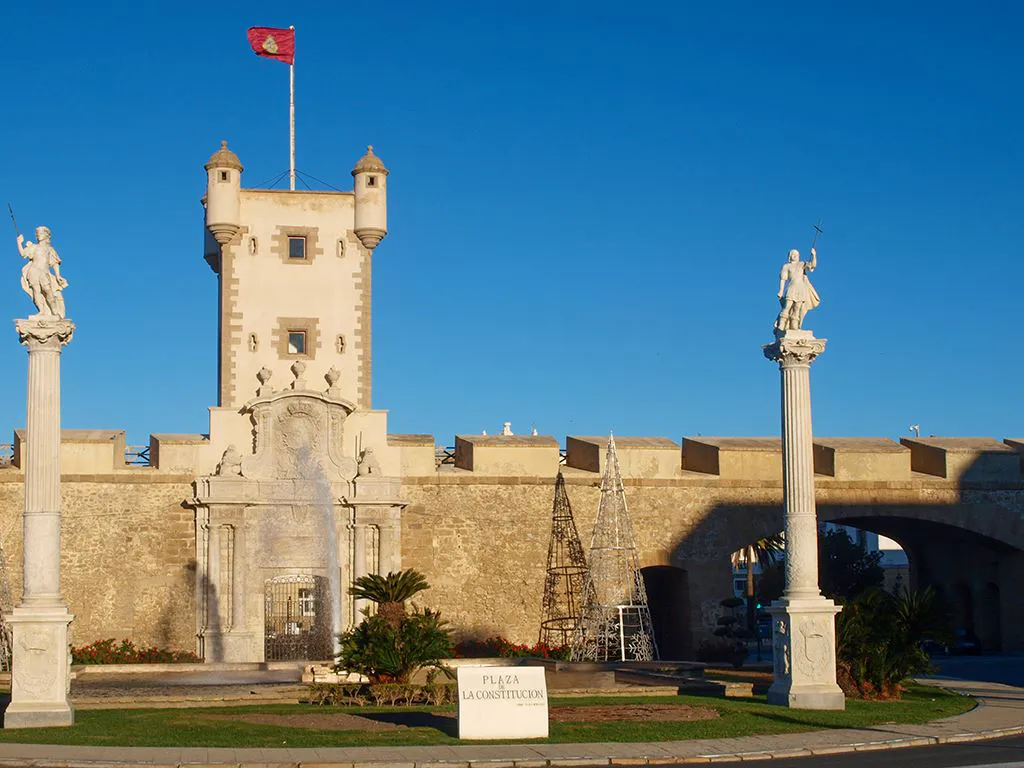 Puertas de Tierra, Cadiz
As you step into the ancient city of Cádiz, you'll be transported back in time. With roots dating back thousands of years, Cádiz is one of the oldest continuously inhabited cities in Western Europe.
The city's history can be traced back to the Phoenicians, who established a trading post here around 1100 BCE. They named the city Gadir, which means "walled stronghold" in Phoenician. The Phoenicians were followed by the Carthaginians and then the Romans, who made Gadir an important port and commercial center.
During the Roman period, the city was known as Gades and was a prosperous center of trade and commerce. The city's architecture reflects the Roman influence, with many buildings featuring columns, arches, and other elements of classical architecture.
After the fall of the Roman Empire, the city was ruled by a series of different groups, including the Visigoths and the Moors. In the 13th century, the city was conquered by the Christian forces of King Alfonso X of Castile, and it became part of the Kingdom of Castile.
During the Baroque period, the city experienced a period of great prosperity and growth. Many of the city's most beautiful buildings were constructed during this time, including the Cathedral of Cádiz, which is a stunning example of Baroque architecture.
Today, Cádiz is a vibrant and cosmopolitan city that is steeped in history and culture. Its rich heritage can be seen in its architecture, its museums, and its many festivals and celebrations. Whether you're interested in Roman history, Phoenician culture, or Baroque architecture, Cádiz has something to offer everyone.
Read more about Cadiz's history here.
How to Get to Cadiz
If you are planning a trip to Cadiz, there are several ways to get there. The best option depends on your departure city and travel preferences.
By Plane
The closest airport to Cadiz is Jerez Airport (XRY), which is located approximately 44 kilometres away.
Jerez Airport serves mostly domestic flights and flights from selected European cities. From there, a taxi or a bus can take you ro Cadiz. The bus is, of course, the cheaper option at about €5 one-way and it takes about an hour to get to Cadiz.
You can also fly into Seville Airport (SVQ) or Malaga Airport (AGP), which are both roughly a 2-hour drive from Cadiz. If you're coming from outside Spain, these airports are typically a better choice than Jerez Airport. From the airport in Seville or Malaga, you can head to the city's train or bus stations for public transportation to Cadiz. Alternatively, you can rent a car and drive yourself to Cadiz.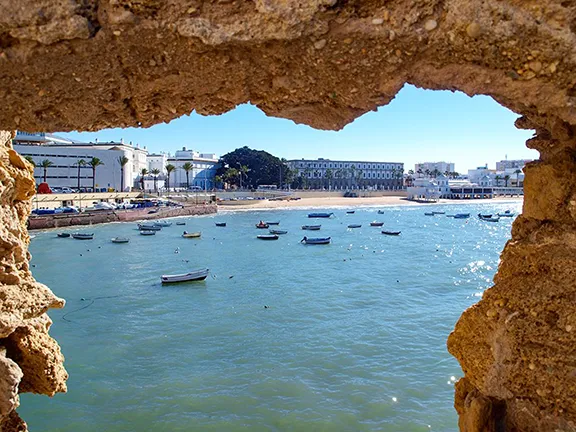 Playa de Santa Maria, Cadiz
By Train
If you are coming from Madrid, Malaga, or Seville, taking the train is the most convenient way to get to Cadiz as there are several trains that run daily between these cities and Cadiz.
The journey from Seville to Cadiz takes around 1 hour and 30 minutes, while the journey from Madrid takes around 4 hours and 30 minutes. Trains from Cadiz to Malaga take about 3 to 4 hours, usually with one connection.
By Bus
There are many good bus connections to Cadiz from other cities in Andalucia and further afield such as Madrid and Barcelona. Travel time will vary depending on your departing city but generally speaking, it'll take longer to get to Cadiz by bus than by train. Taking a bus is also often cheaper than the train, so you might go with this option if you're on a tight budget.
Seville to Cadiz by bus is around 2 hours, while the journey time from Malaga is around 3 hours. From Madrid, a bus to Cadiz will take just over 6 hours.
Travel Tip:
It's a good idea to compare prices, schedules, and travel times when deciding the best way to get to Cadiz. Using
Omio
is an easy way to compare different modes of transport and prices in one place.
By Car
For the ultimate flexibility, you can drive to Cadiz.
There are several highways that connect the city to other parts of Spain. From Seville, you can take the A-4 highway, while from Malaga, you can take the A-7 highway. The journey time from Seville to Cadiz is around 1 hour and 30 minutes, while the journey time from Malaga is around 2 hours and 30 minutes.
When driving in Spain, it is important to note that you will need an International Driving Permit if you are not an EU citizen. Do note that the country drives on the right-hand side of the road. It is also mandatory to wear seat belts and to carry a reflective vest and a warning triangle in your car.
Getting Around Cadiz
Cadiz is a small city, and it is easy to get around on foot. The Cadiz Old Town is especially pedestrian-friendly, with narrow, winding streets that are best explored on foot. Physical maps are readily available or you can use GoogleMaps for convenience and it is easy to find your way around the city centre.
If you prefer not to walk, there are other options for getting around Cadiz. Buses are run by the city's local authorities and operated by Autobuses Urbanos de Cádiz, a municipal company. There is a network with 5 lines, and the buses are fairly new and all have air conditioning (essential in summer). You can buy a ticket on board the bus, and the fare is reasonable.
Taxis are also available, and they are a convenient way to get around the city. You can find taxis at taxi ranks throughout the city, or you can hail one on the street. Taxis are metered, and the fares are regulated by the city, so you can be confident that you will not be overcharged.
If you are planning to explore the wider area around Cadiz, renting a car is a good option. Driving in the city centre can be challenging due to narrow streets and limited parking, but outside the city, the roads are generally good, and there are many interesting places to explore.
What's the Best Time to Visit Cadiz?
While the city is beautiful year-round, certain seasons and events may impact your experience. Here's a breakdown of the best times to visit Cadiz based on different factors.
Weather in Cadiz
Cadiz enjoys a Mediterranean climate, with mild winters and hot summers. The best time to visit Cadiz for pleasant weather is between May and October. During these months, you can expect warm temperatures and plenty of sunshine.
July and August are the hottest months, with temperatures often exceeding 30°C. If you prefer cooler weather, consider visiting in the shoulder season between November and April. While temperatures can drop to around 10°C, there is still plenty of sunshine and fewer crowds. I've visited Cadiz in the winter (February) and the city still felt pretty lively!
Festival Periods in Cadiz
One of the biggest events in Cadiz is
Carnival
which takes place in February. This colourful festival is a celebration of music, dance, and satire, with locals and visitors alike dressing up in elaborate costumes. If you're interested in experiencing Carnival, plan your visit accordingly. Keep in mind that accommodation prices can be higher during this time, and the city can be crowded.
Semana Santa, or Holy Week, is another important event in Cadiz. This religious festival takes place in the week leading up to Easter, with processions and ceremonies throughout the city. If you're interested in experiencing Semana Santa, plan your visit for this time. Keep in mind that the city can be crowded during this period, and some businesses may be closed on certain days.
Summer in Cadiz
Looking to soak up the sun and enjoy the beach? Then summer is the best time to visit Cadiz. The city's beaches are some of the best in Spain and are popular with both locals and tourists. The beaches are usually crowded during peak season, so consider visiting in May or September for a quieter experience.
Top 10 Things to Do in Cadiz
With its rich history, beautiful beaches, and unique attractions, there's something for everyone in this charming city. Here are the top 10 things to do in Cadiz.
Visit the Cathedral - The Cadiz Cathedral is a must-see attraction in the city. This stunning cathedral dates back to the 18th century and features a beautiful baroque and neoclassical design.
Explore the Roman Theatre - The Roman Theatre is another historic attraction that's worth a visit. This ancient theatre dates back to the 1st century AD and was rediscovered in the 1980s. Entrance is free so there's no excuse not to go!
Discover the Cadiz Old Town - Wander around the Old Town and discover cute plazas, picturesque streets, and old churches.
Relax on La Caleta Beach - This small and picturesque beach is surrounded by historic buildings and offers stunning views of the city.
Shop at Mercado Central - Mercado Central is a bustling market in the heart of Cadiz. Here, you can find fresh produce, seafood, and other local products.
Climb the Tavira Tower - The Tavira Tower is the tallest tower in Cadiz and offers stunning views of the city. This tower was once used as a watchtower to keep an eye on incoming ships.
Visit the Museum of Cadiz - The Museum of Cadiz is a great place to learn about the history and culture of the city. The museum features exhibits on art, archaeology, and more.
Relax in Genoves Park - Genoves Park is a beautiful park in the heart of Cadiz. This park features lush greenery, stunning fountains, and plenty of benches to sit and relax.
Stroll through Alameda Apodaca - Alameda Apodaca is another beautiful park in Cadiz. This park features a beautiful fountain and plenty of benches to sit and relax.
Take a Day Trip to Gibraltar - Gibraltar is a small British territory located just a short distance from Cadiz. This unique destination is home to stunning views, unique attractions, and plenty of history.
Cadiz is a beautiful and unique destination that's perfect for anyone looking for a mix of history, culture, and relaxation. With so many things to do and see, you're sure to have a great time exploring this charming city.
Festivals in Cadiz
Cadiz is a city that is steeped in tradition and culture, and one of the best ways to experience this is through its many festivals. Here are some of the most popular festivals in Cadiz that you won't want to miss.
Three Kings Procession
The Three Kings Procession in Cádiz is a cherished tradition celebrated on January 5th. Also known as Epiphany, the festival marks the arrival of the Three Wise Men who bring gifts to children.
Colorful parades fill the streets, with the Three Kings riding through the city, throwing sweets to the crowd. Families gather to watch the spectacle and children excitedly await their gifts. It's a joyous occasion that combines tradition, community, and the magic of the holiday season in Cádiz.
Learn more about the festival here.
Cadiz Carnival
The Cadiz Carnival is one of the most famous carnivals in the world, and for good reason. This two-week-long celebration of music, dance, and costumes takes place in February. During the carnival, the streets are filled with people in colourful costumes, and there are parades, concerts, and competitions.
What makes the Carnival of Cádiz unique is its clever and often satirical humor. Groups of performers called chirigotas, comparsas, and coros create witty songs and skits that comment on current events, politics, and social issues.
Chirigotas are known for their humorous songs and costumes, comparsas focus on more serious themes often with poetic lyrics, and coros are larger choirs that deliver complex musical arrangements. Each group type has its own unique style and adds diversity to the festivities.
This satirical element adds a distinctive and entertaining dimension to the carnival.
Carnival is a time for everyone to let loose and have fun, so make sure to join in on the festivities!
Read more about Carnival in Cadiz.
Semana Santa
Semana Santa, or Holy Week, is a religious festival that takes place in the week leading up to Easter. It's a time for reflection and prayer, and the streets of Cadiz are filled with processions of people carrying religious statues and crosses. The atmosphere is solemn and respectful, and it's a great way to experience the religious traditions of Cadiz.
Read more about Semana Santa in Andalucia here.
Cadiz Jazz Festival
The Cádiz Jazz Festival is an annual musical event that brings together jazz enthusiasts from around the world.
The festival features a lineup of talented jazz musicians and bands performing a diverse range of jazz styles, from traditional to contemporary. The festival's atmospheric venues, including historic theaters and open-air spaces, provide a perfect backdrop for captivating performances.
The Cádiz Jazz Festival offers an unforgettable experience for music lovers and a platform for jazz appreciation and exploration.
Learn more about the festival here.
Other than these festivals that happen within the city, there's a whole host of festivals and fiestas happening throughout the year in Cadiz province. You can check them out here.
Day Trips from Cadiz
If you have more time in Cadiz, you'll be happy to know that there are several day trips you can take from the city. Here are some of the best options for day trips from Cadiz.
Seville
If you're not making a separate visit to
Seville
, then you should certainly see it on a day trip from Cadiz!
Only about 1.5 hours away from Cadiz by car, Seville is a great place to experience the culture and history of Andalusia. Top attractions in Seville that you can see on a day trip include the Alcazar, the Cathedral, and the Plaza de España.
You can easily do a DIY day trip to Seville from Cadiz but if you prefer a hassle-free experience, you can opt for a guided day tour that includes transportation, a guided tour of the city's main highlights, and a stop in Jerez de la Frontera.
Jerez de la Frontera
Known for its sherry wine,
Jerez de la Frontera
is only about 30 minutes away from Cadiz by car. You can take a tour of one of the many sherry bodegas in the city and learn about the history and production of this famous wine. Jerez also has a beautiful old town with a cathedral and several museums.
Another highlight in Jerez that you can't miss are seeing the iconic Andalucian dancing horses. Watching the show that combines equestrian skills and Spanish music is an unforgettable experience!
The short distance and numerous bus connections make a day trip to Jerez very easy. If not, a private guided tour to Jerez is also a great choice so that you can sit back and relax.
Gibraltar
About an hour away from Cadiz by car,
Gibraltar
is a unique place to visit because of its mix of British and Spanish culture. You can visit the famous Rock of Gibraltar and see the Barbary macaques, take a cable car to the top for stunning views, and explore the tunnels and caves inside the rock.
The best way to see the city when you arrive is to book a tour. This 1h 45 min private tour that includes the highlights of Gibraltar is a great option when visiting on a day trip.
Ronda
Best known for its stunning views and historic bridge, the Puente Nuevo,
Ronda
is a beautiful Andalucian town that is about 1.5 hours away from Cadiz by car. It's. Ronda also has several museums and churches to explore, as well as a bullring that is one of the oldest in Spain.
The best way to visit Ronda from Cadiz is by car.
Vejer de la Frontera
A lovely hilltop town that is only about 45 minutes away from Cadiz by car, you'll be charmed by the narrow streets, whitewashed houses, and beautiful views from
Vejer de la Frontera
. Vejer also has several historic buildings to explore, including a castle and several churches.
Like Ronda, Vejer is best visited by car.
Where to Stay in Cadiz
Cadiz offers a variety of accommodation options for all types of travelers. Whether you're looking for a budget-friendly hostel or a luxury hotel, there's something for everyone in this charming city.
If you want to experience the history and culture of Cadiz, staying in the Old Town is the perfect choice for you. This area is filled with narrow, winding streets, Gothic and neo-classical architecture, and evidence of the Roman and Moorish occupations. You can explore the city's rich history and enjoy the local cuisine at the many restaurants and cafes in the area.
Some popular hotels in the Old Town include Boutique Hotel OLOM and Parador de Cadiz.
Looking to enjoy the sun, sand, and sea in Cadiz? Staying in the beach area is the best option for you. The beach area is located just a short distance from the Old Town and offers a range of accommodation options, from budget-friendly hostels to luxurious hotels.
Some popular hotels in the beach area include Hotel Playa Victoria and Senator Cadiz Spa Hotel.
For a full guide on the best areas to stay in Cadiz and more specific recommendations, read our Where to Stay in Cadiz guide.,/b> Alternatively, check out the latest deals in Cadiz below.
More on Cadiz
Note: This article may contain affiliate/compensated links. That means that if you book through our link, we may earn a small commission (at no extra cost to you). For full information, please see our disclaimer here.
---
More about Cádiz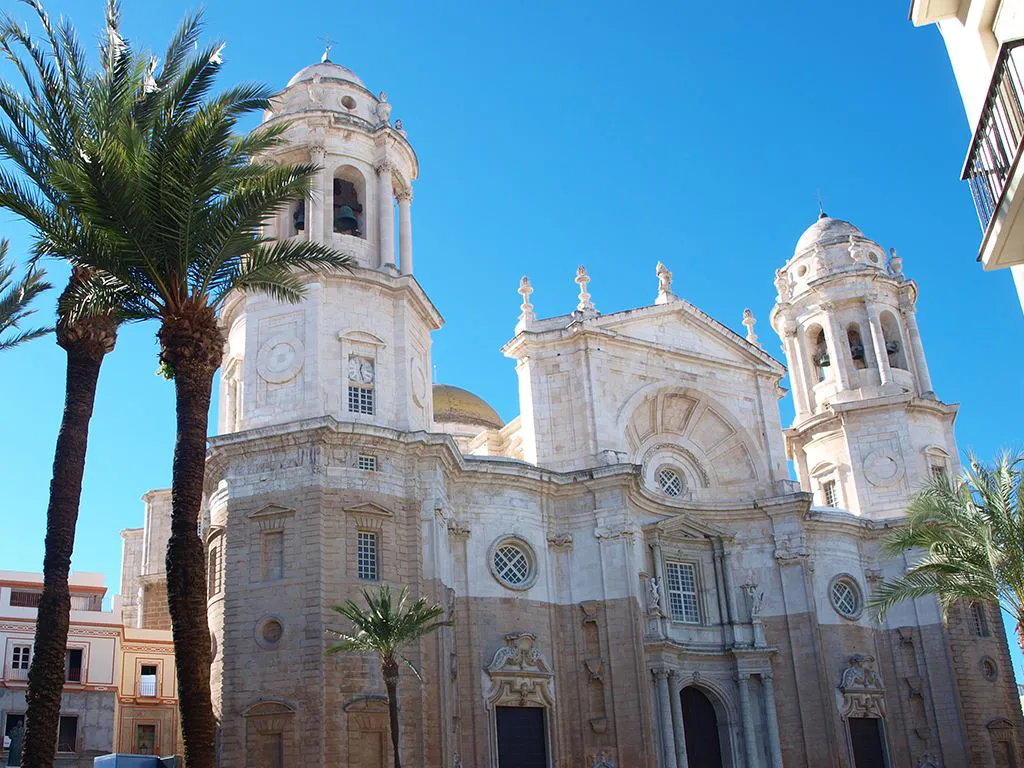 Things to Do in Cadiz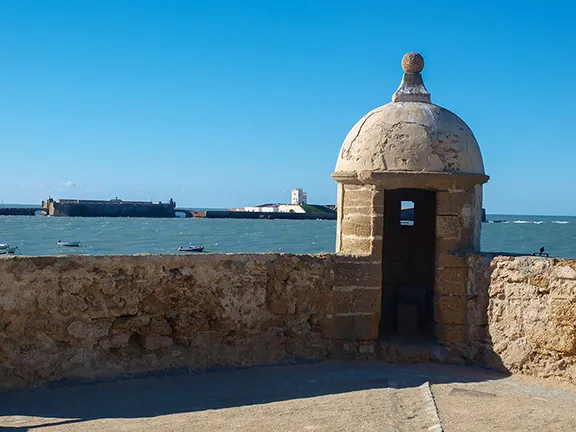 Historical Guide to Cádiz city
Museums and Galleries in Cádiz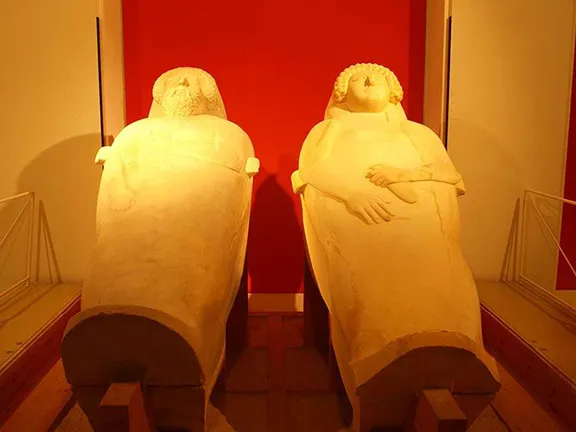 Archaeological Museum
---