Jerez de la Frontera: Discover the Best of Andalucia's Sherry Capital
Jerez de la Frontera in Cadiz province, centre of the Sherry Triangle, a city with great food and plenty of places to see, should be on every visitors bucket list.
By Liza S. | Updated 25 Oct 2023 | Cádiz | Villages | Login to add to YOUR Favourites
or Read Later
This article has been visited 15,219 times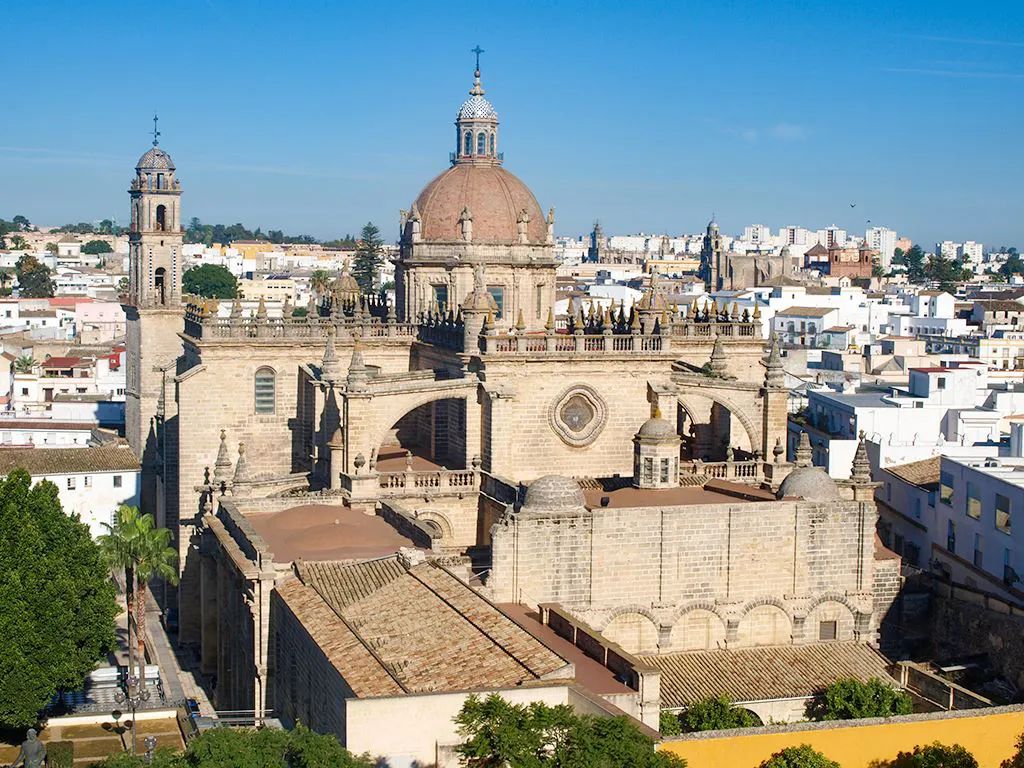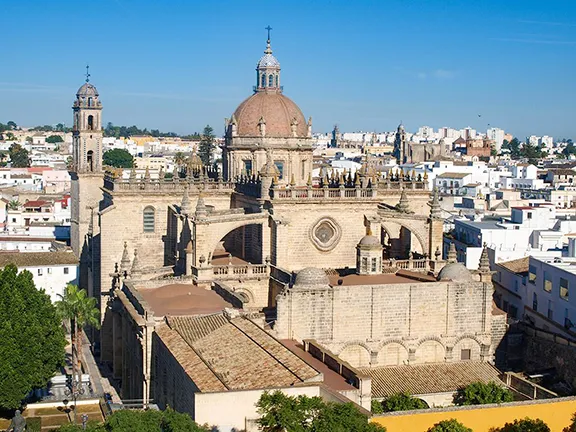 Cathedral, Jerez de la Frontera
Are you planning a trip to Andalucia, Spain and looking for an off-the-beaten-path destination to explore? Look no further than Jerez de la Frontera. This charming city is known for its sherry, flamenco, and equestrian traditions, making it a unique and culturally rich experience for any traveller.
Jerez de la Frontera must be one of the most undiscovered tourist attractions in Andalucia. This may be due to its position, almost midway between the famous cities of Cádiz and Seville, or just an accident. It may be that its charms are difficult to find because signposting of its hotels and attractions within the city is, to be kind, poor.
None of that matters because the local populace is not only very friendly, the majority also speak excellent English due to the influx of English partners and staff into the booming sherry industry over the last two hundred years.
Dive into this guide and unwrap Jerez's many layers – from its Moorish palaces and sherry bodegas to its spirited festivals and sultry flamenco scene. So pack your bags and get ready to explore this hidden gem in the heart of Andalucia.
Brief History of Jerez
The first settlement in the area is attributed to the Tartessians and the Phoenicians, with whom they traded, called the town Seres. It was later occupied by the Romans and the name was romanised to Ceret.
There is no trace of a Roman presence in Jerez itself, they seemed to have confined themselves to another Tartessian city called Asta Regia about 11 kilometres away in an area called the Mesas de Asta. The Visigoths and Vandals briefly had a presence until the town was taken by the Moors in 711 AD.
The 11th, 12th and 13th centuries were a turbulent time for Xerez as it was now called. In the 11th Century, Xerez briefly became the seat of an independent taifa until, in 1040, it was united with Arcos de la Frontera. In 1053, it was annexed to Seville and became part of the emirate dependent on Granada.
The Almohads conquered the city in the mid 12th Century. In 1231, at the Battle of Jerez, Alvaro Perez de Castro, the grandson of Alfonso VII of Castile and Leon, defeated the Moors and the city was finally taken by the Christians in 1264.
Why Visit Jerez de la Frontera
Jerez de la Frontera is often overlooked in favour of Seville and Cadiz, but if you have some time to spare in your itinerary, a visit here will yield a rich taste of authentic Andalucia.
First, there's the sherry. Jerez is the birthplace of this renowned wine, and a tour of its historic bodegas is a journey into a rich, liquid heritage. For culture seekers, the city echoes with the rhythmic claps and soulful tunes of flamenco, a testament to its deep-rooted traditions.
Architecture enthusiasts will be drawn to landmarks like the Alcázar and the Cathedral of San Salvador, each telling tales of epochs gone by. Add to this mix the Royal Andalusian School of Equestrian Art, showcasing the beauty of the Andalucian horse and horse-riding as a form of high art.
If you're looking for a Spanish destination that offers more than just tourist traps and crowded plazas, Jerez is your answer. It's a city that offers a genuine slice of the region's culture, history, and spirit. Visit Jerez, and you'll soon understand why it's a gem in the Andalucian crown.
Getting to Jerez De La Frontera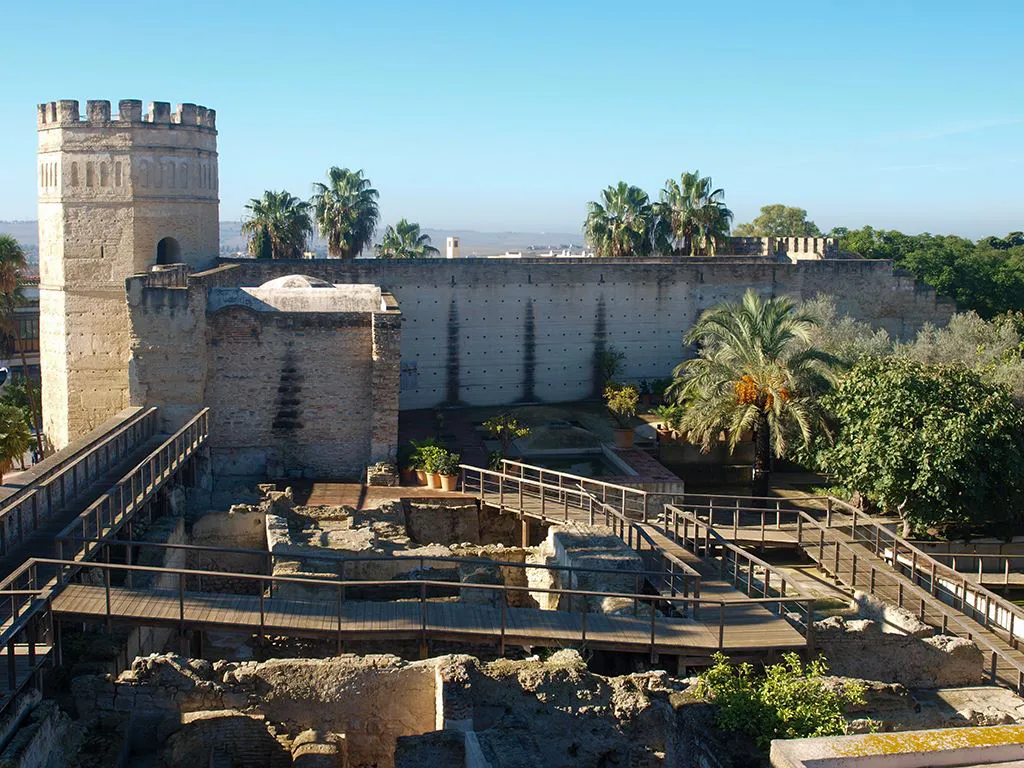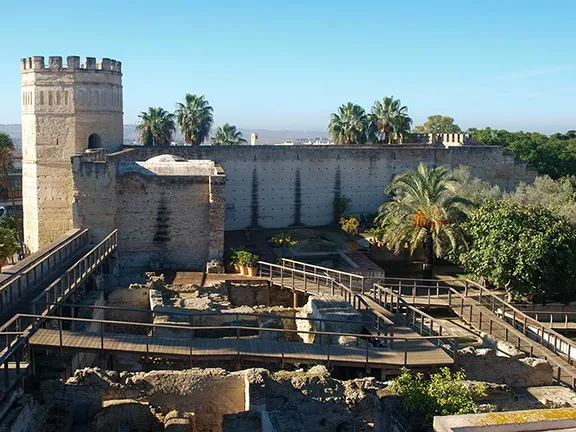 The Alcazar, Jerez de la Frontera
If you're planning a trip to Jerez De La Frontera, you'll need to know how to get there. Fortunately, the city is well-connected to other parts of Spain, making it easy to reach by air, train, or road.
By Air
Jerez De La Frontera has its own airport, Jerez Airport (XRY), which is located just 10km north of the city centre. The airport is served by several airlines, including Ryanair and Iberia, and offers regular flights to and from destinations across Europe.
Another nearby option is Seville Airport (SVQ), which is roughly an hour's drive away and offers a broader range of international flights.
To get from the Jerez airport to the city centre, you have several options. If you're road-tripping through Andalucia, the airport is a great place to pick up a rental car for your explorations.
Taxis are available outside the airport terminal. A ride to the city centre typically takes about 15 minutes, but do note that fares can be higher during nighttime and on holidays.
The cheapest option is the bus. The Linea M-050 bus connects the airport with the central bus station, with services running regularly throughout the day. The journey takes approximately 20-30 minutes.
By Train
Jerez De La Frontera has a train station, Jerez de la Frontera Station, which is located in the city centre. The station is served by several trains a day from Seville, Cadiz, and other cities in Andalucia.
If you're travelling from Madrid, there are a handful of direct trains to Jerez and the travel time is about 4 hours. There are no direct trains from Barcelona; you'll have to travel through Madrid and change trains there so it's much better to fly if you're coming from Barcelona.
By Bus
For those who prefer road travel without the commitment of driving, the bus system offers a cost-effective and straightforward way to reach Jerez.
Jerez's central bus station, situated in the heart of the city, serves as a hub for numerous regional and national routes. Major cities such as Malaga, Granada, and even Madrid have direct services to Jerez, albeit with longer travel times.
Several daily buses operated by different companies, including Damas and Comes, connect Seville's Prado de San Sebastián bus station with Jerez. The trip generally takes around 1 to 1.5 hours.
Buses from Cadiz to Jerez are frequent and the journey is short, usually under an hour. This route is primarily managed by the Comes bus company.
If you're travelling to Jerez by public transportation, I recommend using Omio to research the best routes, schedules and prices. Simply input your travel details below to find the best way to get to Jerez!

By Car
Jerez De La Frontera is well-connected to other parts of Andalucia by road. The city is located just off the A4 motorway, which runs from Madrid to Cadiz.
If you're driving from Seville, you can take the A4 or the A-471 motorway, which runs through the countryside. The drive is roughly 90 kilometres and takes about an hour under normal conditions.
From Cadiz, take the A-381 motorway which connects Cadiz with Jerez, offering a quick 45-minute drive for the 35-kilometre distance.
The city offers several public parking garages and lots. While street parking is available, it can be challenging to find a spot during peak times or events so be sure to research paid parking options before you arrive, just in case.
Remember to familiarise yourself with local driving regulations and always have your driving licence, insurance, and other necessary documents at hand when driving in Spain.
Getting Around Jerez De La Frontera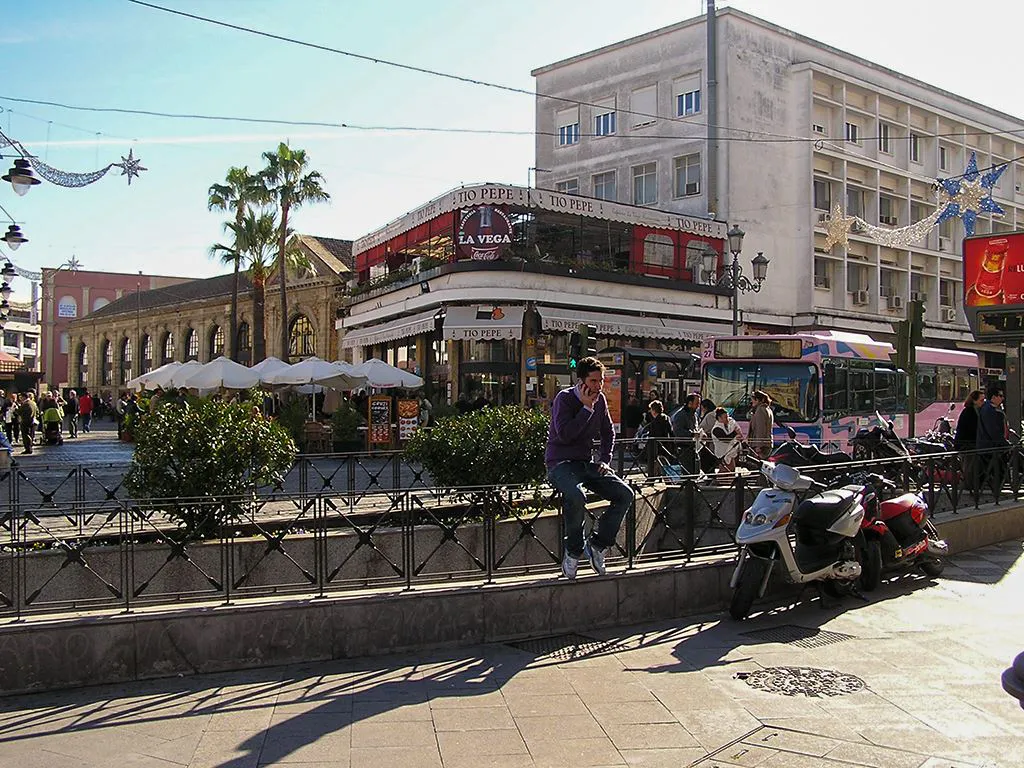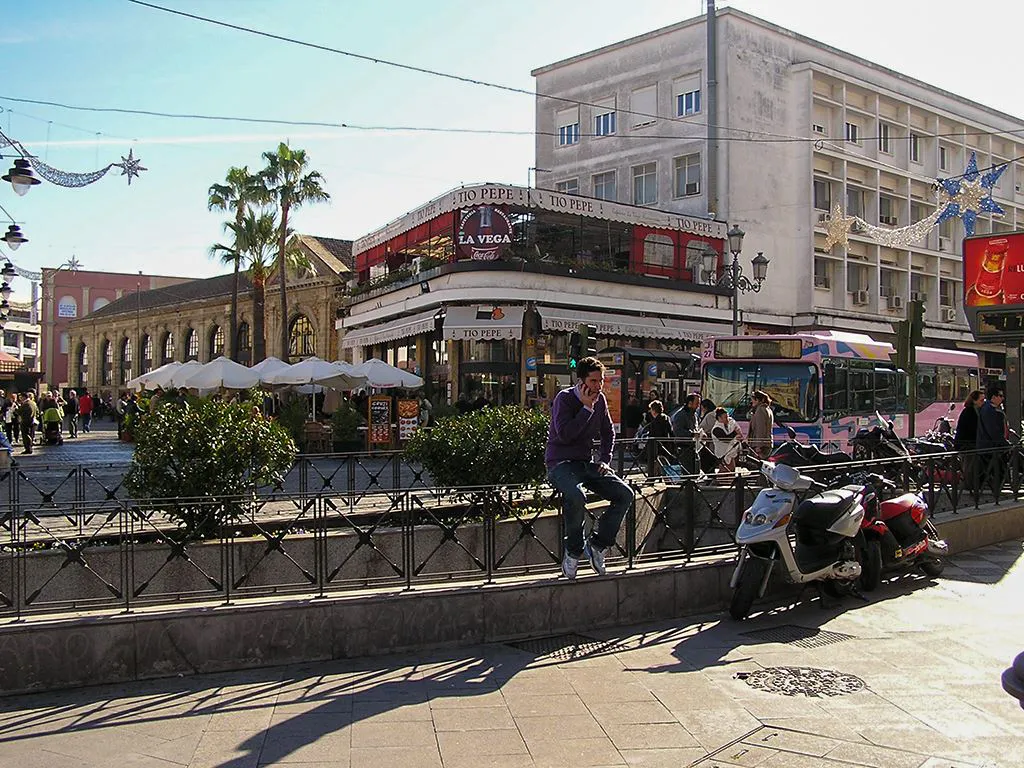 Navigating Jerez is relatively easy thanks to its compact city layout and efficient public transportation options. Here are some of the best ways to get around the city.
Walking
If you're just visiting for the day or staying in the centre, getting around by foot is your best option. Jerez's city centre is pedestrian-friendly, with many of its main attractions situated within a walkable distance from each other. Strolling around also offers a chance to absorb the city's charming architecture and vibrant street life.
Buses in Jerez
The city's bus network, operated by Consorcio de Transportes Bahía de Cádiz, covers most areas of Jerez, making it a practical choice for longer distances or when looking to save time.
Various routes crisscross the city, ensuring connectivity to major sights, residential areas, and even the outskirts. Timetables are generally regular, with buses running more frequently during peak hours.
You can purchase single-journey tickets (about €1 per trip) directly from the bus driver, but if you plan to use the bus frequently during your stay, consider buying a multi-journey card (buy them from selected kiosks in the city) for better value. View fare details and where to buy multi-journey cards here.
The City Sightseeing Jerez de la Frontera Hop-on Hop-off Tour is a popular way to explore the city's top attractions. The tour bus stops at 12 different locations, including the Alcázar, the Cathedral, and the Royal Andalusian School of Equestrian Art. You can hop on and off the bus as many times as you like, making it a convenient and flexible way to explore the city.
Taxis in Jerez
Taxis are readily available in Jerez De La Frontera and are a great option for those who prefer a more private and comfortable mode of transport.
Taxis can be hailed on the street or booked in advance through a taxi company. The fares are reasonable and are calculated based on the distance travelled. It is recommended to only use licensed taxis to ensure safety and avoid scams.
Bike Rentals
For a more eco-friendly way to explore Jerez De La Frontera, consider renting a bike. Jerez is becoming increasingly cycle-friendly, with more bike lanes and routes being introduced. Various rental agencies offer daily or hourly rates, providing an active way to explore the city.
Biking is a great way to see the city at your own pace and get some exercise at the same time. Just be sure to follow the local traffic rules and wear a helmet for safety.
Car Rental in Jerez
If you're planning to explore areas outside Jerez or prefer the flexibility of driving, there are several car rental agencies within the city. However, do remember that finding parking in the city centre can be challenging, especially during peak times.
Given the city's layout and the availability of public transport, renting a car is generally not necessary unless you have specific plans to explore the wider region.
What to Do in Jerez de la Frontera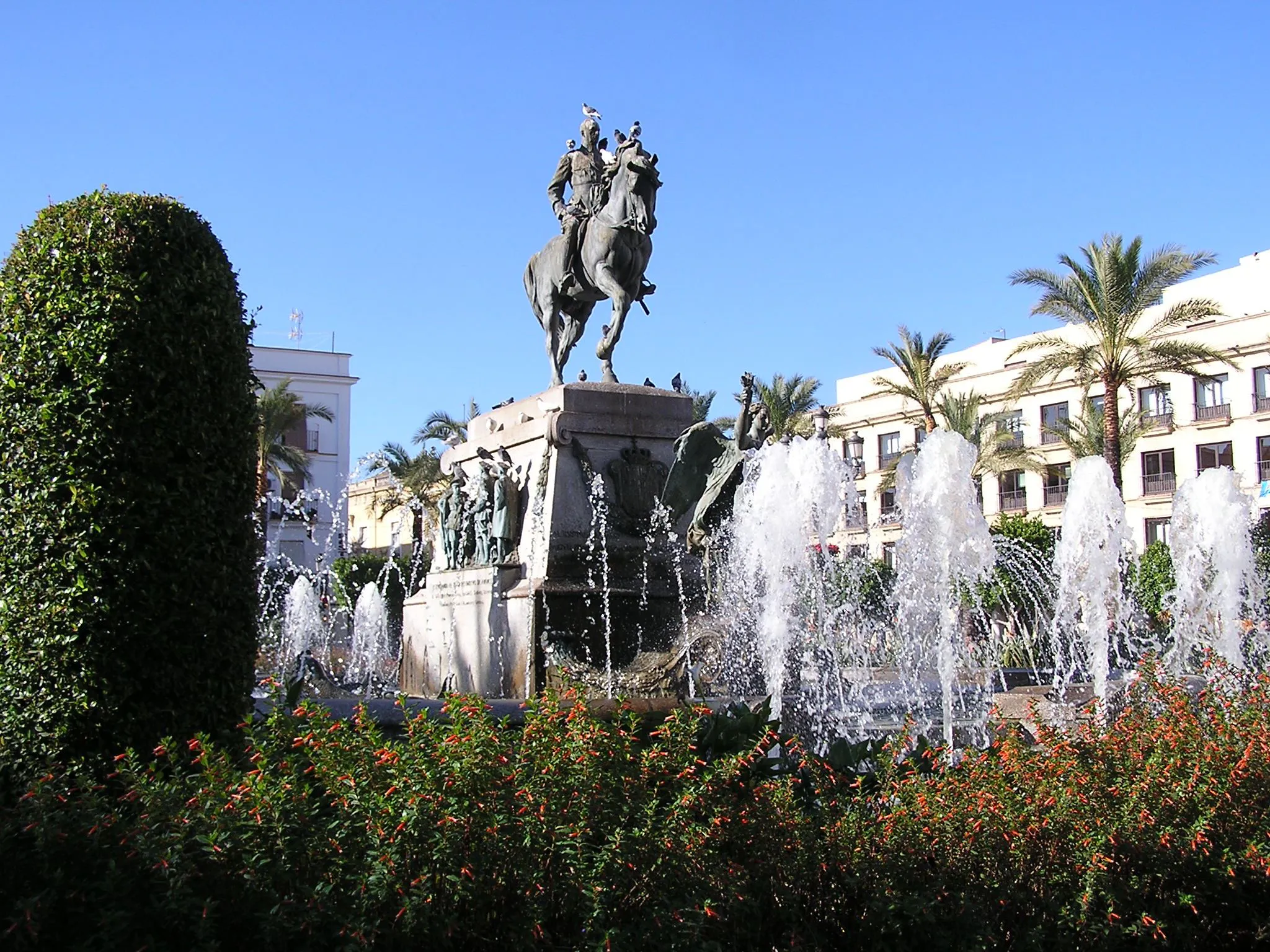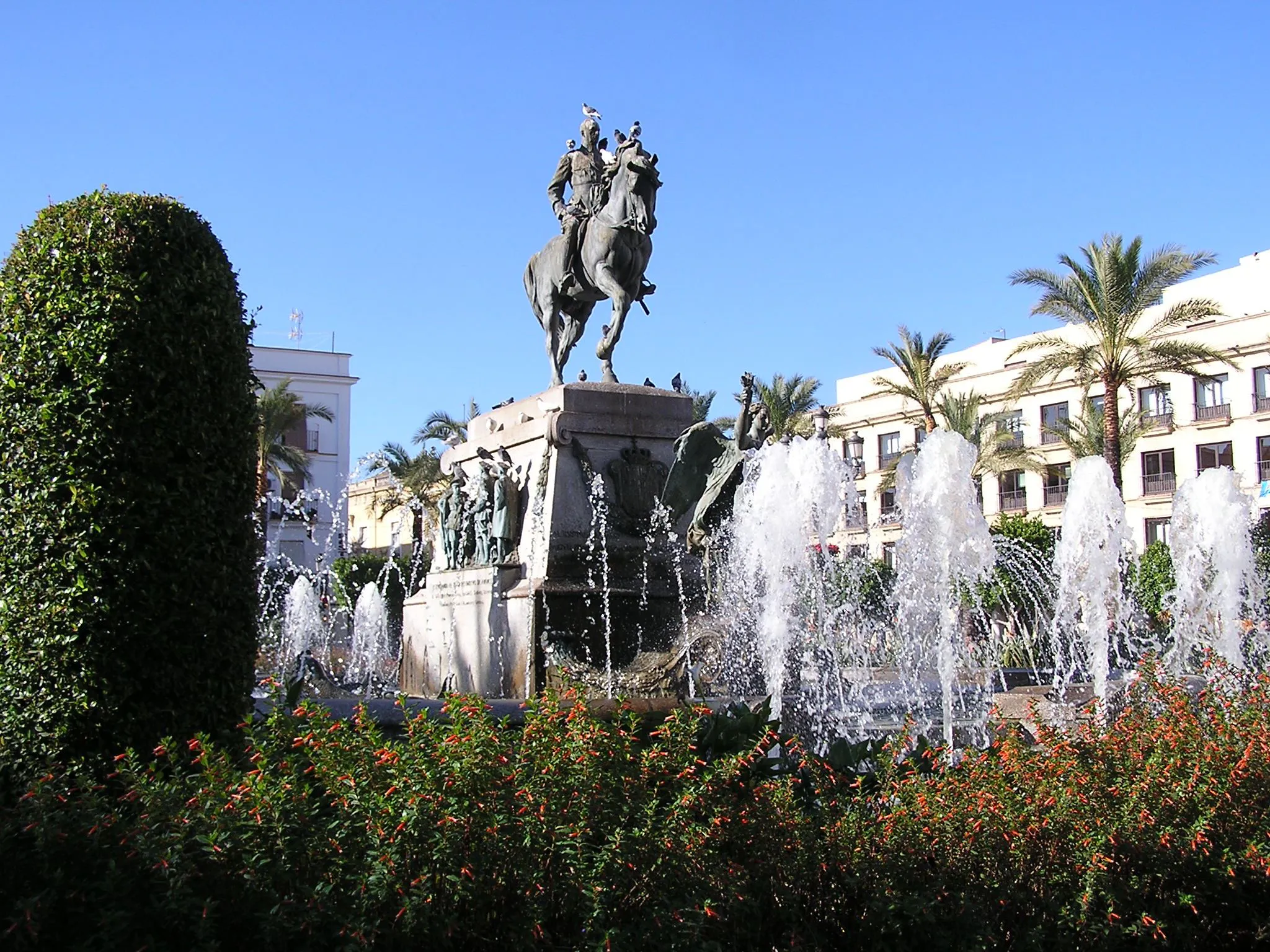 General Miguel Primo de Rivera, Jerez de la Frontera
A tour of a bodega is almost mandatory in Jerez but for those prepared to look, there is lots more to see! Let's dive into the best things to do in Jerez.
Plaza del Arenal
You will inevitably arrive in Plaza del Arenal, the main square in the town. A vibrant hub of activity and a focal point for locals and visitors alike, its spaciousness makes it one of the largest squares in Andalucia.
The plaza has seen many historical events over the centuries, making it a window into Jerez's past. It used to be a sandy arena where tournaments and fairs were held, which is where the name 'Arenal' (sandy) comes from.
Today, Plaza del Arenal is full of cafes, bars, and restaurants, making it an ideal spot to sip on a coffee or enjoy local tapas while watching the world go by. In the centre is a sculpture of General Miguel Primo de Rivera mounted on a horse. Rivera was born in Jerez and became dictator of Spain between 1923 and 1930.
Alcazar de Jerez de la Frontera
Just outside Plaza del Arenal and to the south is the Alcazar de Jerez de la Frontera, one of the city's most popular attractions.
The palace has been used as a residence for many different rulers over the centuries and has undergone several renovations. Today, you can explore the palace and its beautiful gardens, which offer stunning views of the city.
The Alcazar in Jerez was built in the 12th century and is one of the few examples of Almohade architecture in Spain. Remaining from that period are two gates, a small mosque, an octagonal tower, the baths, the Palace of Doña Blanca and the Villavicencia Palace.
The Alcazar dates back to the 12th century with some more modern additions: the homage tower was built in the 15th century and the oil mill in the 18th. The most attractive part of the Alcazar has to be the gardens, laid out in typical symmetrical Arabic style, with an enormous sculpture of three horses and a number of small fountains. The whole has been well-preserved. As you enter the Alcazar through the city gate, the mosque is to your left. Whilst not being as large or elaborate as the Mezquita in Cordoba, it has a simple charm more fitting to its purpose.
In the Villavicencia Palace, on the ground floor, is a relief model of Xerez as it was in the 12th century after the Alcazar was built. It is only when you see this model that you realise how extensive the city was at that time.
There's an entrance fee, with discounts available for students, seniors, and large groups. Audio guides are available in multiple languages, offering deeper insights into the Alcazar's past and its various sections.
➡️ This guided tour of the Alcazar and Cathedral will take you to two of Jerez's best attractions!
Tip: Visit in the early morning or late afternoon to avoid the midday heat, and to witness the Alcazar bathed in the soft glow of the golden hour.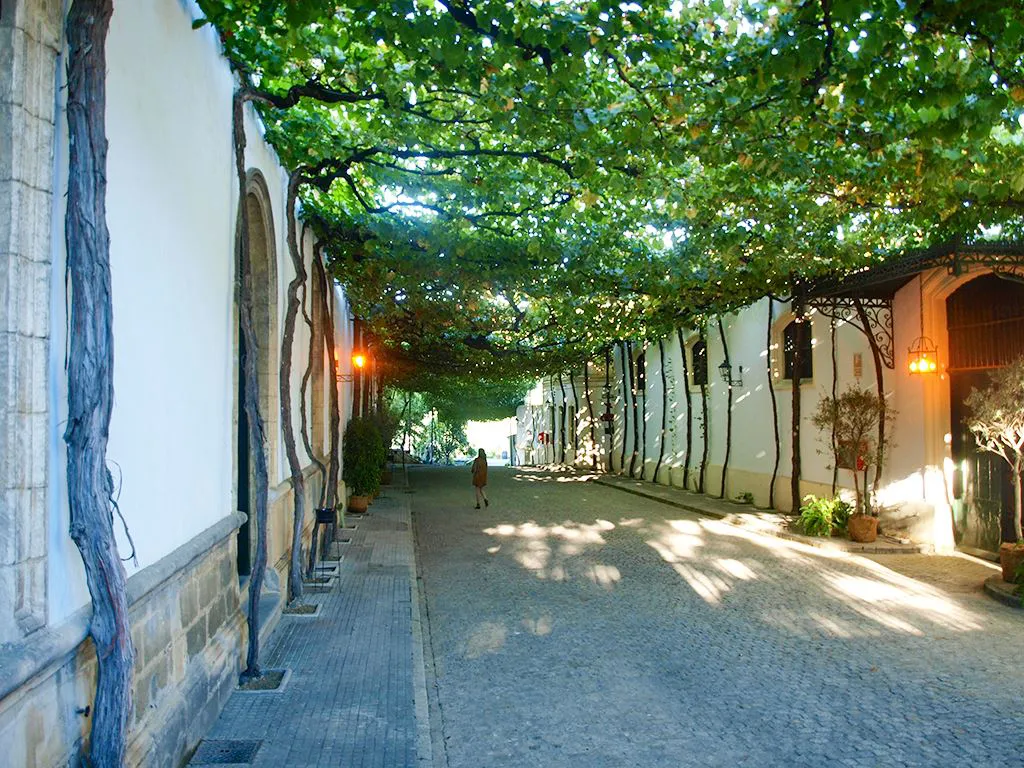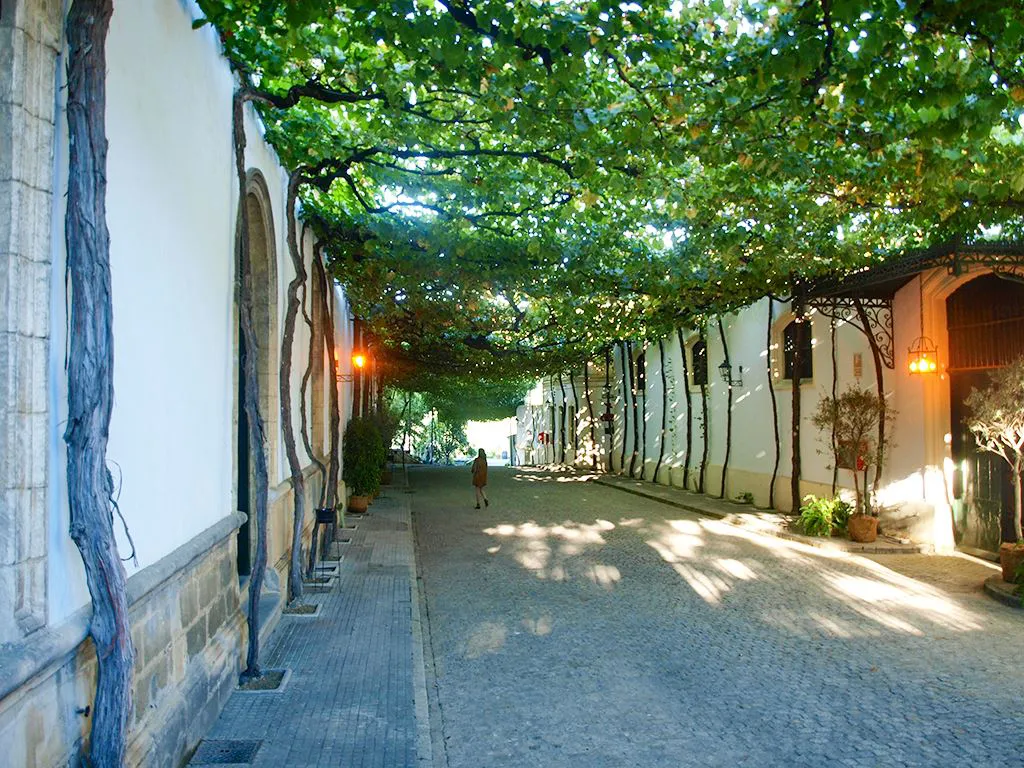 Grape Arbor, Gonzalex Bias Bodega
Catedral de San Salvador
An imposing yet elegant structure, the Cathedral of Jerez, or "Catedral de San Salvador", stands as an emblem of the city's rich religious and architectural heritage.
Built on the site of the city's former main mosque following the Christian reconquest, the cathedral was constructed in the 17th century. It showcases a blend of architectural styles, reflecting the various influences and trends of its time.
The cathedral's roots in Gothic design are evident in its pointed arches and ribbed vaults. Over time, Baroque elements were integrated into its structure, particularly noticeable in the facade and certain interior decorations. Meanwhile, the cathedral's dome and certain chapels exhibit classic Renaissance features.
Also notable is the main altarpiece, a masterpiece of Baroque artistry that depicts various biblical scenes. Don't forget to admire the beautiful stained glass windows as well!
Adjacent to the cathedral is an archaeological museum that showcases artefacts tracing back to Jerez's ancient past, from Roman times to the medieval period. It's worth a visit to complement your understanding of the region's history.
There's a modest entrance fee to enter the cathedral. You can buy tickets here (includes an audioguide). For those keen on panoramic city views, head up the cathedral's tower. You can also choose to go on a guided tour to learn more about the cathedral's history and architecture.
Tip: If you can, try attending a service, especially on a Sunday. The cathedral comes alive with liturgical music, allowing visitors to experience its spiritual essence amidst its historical grandeur.
Other notable churches in Jerez include the Church of San Miguel, the Church of San Juan de los Caballeros, and the Church of San Dionisio. If you are interested in history, be sure to include these sites in your Jerez itinerary.
Sherry and Bodega Tours in Jerez
Jerez de la Frontera is synonymous with sherry, a fortified wine that has put this Andalusian city on the global map. Deeply ingrained in the city's culture, tradition, and economy, sherry is more than just a drink in Jerez; it's a way of life.
Sherry production in Jerez dates back over 3,000 years, with the Phoenicians introducing viticulture to the region. Over the centuries, the Moors refined the distillation process, and by the time of the Reconquista, Jerez had firmly established itself as the epicentre of sherry production.
The city is dotted with numerous bodegas (wineries) ranging from sprawling establishments to quaint, family-run ventures. These bodegas offer guided tours where visitors can learn about the intricate sherry-making process, from grape cultivation to the final ageing process.
Some of the most popular bodegas in Jerez De La Frontera include:
During a bodega tour in Jerez, you'll learn about the history and production process of sherry, and do tastings to discern the distinct flavour profiles and complexities of each type. Varieties range from the light and dry Fino and Manzanilla to the rich and sweet Oloroso and Pedro Ximénez.
Visiting in September? Then you're in luck as the annual Jerez Sherry Festival is not to be missed. This week-long celebration sees the city come alive with parades, horse shows, flamenco performances, and, of course, sherry tasting sessions.
Jerez de la Frontera, along with El Puerto de Santa Maria and Sanlúcar de Barrameda, are the three points on the 'Sherry Triangle'. In order to be called sherry, the wine has to be produced within this area. So, whilst you are here, why not take a look at the other towns in the triangle? In any case, you can sample all the different types of sherry at many of the small bodegas.
Tip: When touring the bodegas, I recommend booking in advance, especially during peak tourist seasons or festivals. Some bodegas also offer pairing sessions, allowing visitors to enjoy sherry with traditional Spanish tapas, enhancing the tasting experience.
Horse Shows in Jerez
Jerez De La Frontera is known for its equestrian tradition, and you can witness it first hand at the Royal Andalusian School of Equestrian Art. The school is dedicated to preserving and promoting the art of classical horsemanship, and it offers regular shows and performances that showcase the beauty and skill of the horses and riders.
Their famously choreographed performance 'How the Andalucian Horses Dance' is famous throughout Spain. The shows are accompanied by live music and are a true spectacle to behold.
One of the best things you can do in Jerez is to see a show and tour the school that includes the training sessions, the stables, the Palace rooms, the Museum of Equestrian Arts and the Carriage Museum.
In my opinion, this is the top cultural experience in Jerez, so don't miss it!
Check availability for your Jerez visit below:
Plus, if you're visiting in May, the first week of May is the time of the Feria del Caballo when these beautifully groomed horses parade around the city. The school also organises gala performances on Fridays and Saturdays during the feria.
You will find more horses in Plaza del Caballo, a giant sculpture of two bronze horses, and yet more in Plaza Mamelon. There you will see a monumental bronze of a carriage being drawn by five horses with an outrider. It is the work of Eduardo Soriano.
Walking Tour of Jerez de la Frontera
For an easy way to see the highlights of Jerez and learn more about the city's history and culture, I highly recommend taking a walking tour of Jerez. It's a great way to get to know the city and discover which of its attractions you're most interested in seeing.
To look for free walking tours, I always use Guruwalk and they have a selection of Jerez walking tours you can choose from. Choose the theme, language, and schedule that best suits your needs and you're all set! (Don't forget to tip your guide if you enjoyed your tour!)
You can also choose a paid walking tour, if you prefer to pay upfront for the tour. You may also like this art and history-focused walking tour.
Palace of Time (Clock Museum)
Situated in the heart of Jerez, on Calle Cervantes, the Palace of Time, also known as the "Museo de Relojes" (The Clock Museum) is a must-visit for both horology enthusiasts and history buffs.
This 19th-century Renaissance palace is home to an extraordinary collection of clocks. Acquired by wealthy individuals during their travels, these timepieces became symbols of prestige and were often gifted to the city.
On the hour, every hour, all the 302 clocks variously ring, chime, ding and dong. On the quarter hour, only the English clocks chime, deep Westminster chimes predominate, and on the half hour it is the turn of the French clocks, lighter tinkles and trings in the background.
The majority of the displays are unique pieces from the 17th, 18th and 19th centuries, each spotlighted in beautiful mahogany cases and each wound conscientiously every week by the two employed clockmakers.
You will see the striking contrast between the French clocks and the English. The French were much more concerned with the decorative aspect of their clocks rather than the mechanism whilst the English clocks are less decorative but have more accurate timekeeping. The debate during the 16th century was whether or not a long pendulum produced more accurate time. Only later science in the 17th century proved that the length of the pendulum was important.
The clock museum houses the largest collection of working clocks from this period in the world.
You will also see some unusual clocks including a portable English sundial clock.
Portable sundials have been used for timekeeping since at least the 12th century. Later versions were aligned north/south using an integral compass. The gun clock also utilised a sundial. This was a more permanent structure. At noon the sun's rays were focused using a magnifying glass on the touchhole of a small cannon. This ignited the gunpowder and discharged the cannon, brilliant.
A small entry fee is charged and guided tours are available, providing detailed insights into the stories and mechanisms behind each timepiece.
Tip: Allocate sufficient time for your visit. While the museum may seem compact, the sheer detail and intricacy of each clock warrant close observation and appreciation.
Read more about the Clock Museum here.
Flamenco in Jerez
Flamenco, the soulful art form of Andalusia, is deeply rooted in the culture of Jerez. As one of the cradles of flamenco, Jerez offers an authentic experience, far from the more commercialised versions in some tourist-heavy locations.
Jerez, along with Seville and Granada, forms the flamenco triangle, the region where this evocative art form originated. In the narrow streets of Jerez's historic districts, the echoes of foot-tapping, guitar strumming, and profound singing have been resonating for centuries.
A tablao is a place where flamenco shows are performed, while peñas are flamenco clubs. Both venues offer an intimate setting for visitors to experience flamenco. While tablaos often cater to tourists, peñas are where locals gather, offering a raw and unfiltered look at flamenco culture.
Some of the best venues for flamenco shows in Jerez De La Frontera include:
Peña Flamenca Buena Gente
Tip: While impromptu street performances are not uncommon, for a guaranteed experience, it's advisable to book a show at a reputable tablao or check the schedule of local peñas. If visiting during the Festival de Jerez, make sure to book tickets and accommodation well in advance.
Palacio del Virrey Laserna
The Palacio del Virrey Laserna is an architectural gem that beautifully encapsulates the city's illustrious past. Owned by the same noble family for over eight generations, this palace has been home to many significant figures, most notably the Viceroy of New Granada and the Viceroy of Peru.
The architecture of the palacio is well worth admiring.
The exterior of the palace, with its tall windows and intricate wrought-iron work, is both commanding and inviting. The central courtyard or patio, a quintessential feature of Andalucian homes, is particularly striking with its lush greenery, decorative tiles, and ornate archways. Stepping inside the palace is like taking a journey back in time. Each room showcases period-appropriate décor, from ornate chandeliers to exquisite tapestries.
A visit to Palacio del Virrey Laserna offers insights into the lifestyles of Spanish nobility, the city's ties with the New World, and stories of the individuals who once walked its halls.
To maintain its pristine condition and offer a quality experience, visits to the palace are through guided tours in Spanish and English, at specific times. The guided tours are comprehensive, covering the history, architecture, and notable artefacts within the palace.
Check the official website for opening/tour timings. You can also buy your tickets online here.
Archaeological Museum of Jerez
The Municipal Archaeological Museum in Plaza del Mercado has displays from the Paleolithic right through to modern times.
This museum contains a 1st millennium BC Greek helmet that was dredged out of the Rio Guadalete. It is believed to be the oldest Greek object found in Spain.
It also has a rather fine carnelian necklace from the Tartessian period and a Renaissance period pulpit from the church of San Miquel.
For more on the museum, click here.
Yeguada de la Cartuja Carthusian Horses Tour
If you have more time in Jerez, one of the truly unique experiences here is the Yeguada de la Cartuja Stud Farm Tour.
This activity offers a deep dive into the majestic world of the Andalucian horse, known for its grace and agility. The Carthusian horse, a line of the Andalusian breed, has a rich history intertwined with Jerez.
During this guided tour, you'll visit the historic Charterhouse of Jerez and discover the remarkable story of how the Carthusian monks played a crucial role in preserving and promoting this breed. Alongside learning about their history, you'll witness firsthand the beauty of these horses in their natural environment.
The experience culminates in an impressive equestrian display, showcasing the horse's unparalleled skills and the deep bond shared between the horse and its trainer. This tour is not just for equestrian enthusiasts but also for those interested in local culture and history.
➡️ Book the tour on Get Your Guide | Book the tour on Civitatis
Eating and Drinking in Jerez
The population of Jerez obviously enjoy their food and sitting out in the evening. The city's cuisine is a fusion of Spanish, Moorish, and Roman influences, creating a unique flavour that is sure to delight your taste buds.
There are any number of cafes and bars, most of which serve tapas. You will find many local dishes such as kidneys cooked in sherry, lamb cutlets in oregano and sherry and fish in a tomato and brandy sauce; you would be excused for thinking that water is a rare commodity in Jerez cuisine.
Here are some must-try traditional dishes:
Riñones al Jerez: A classic dish made with kidneys cooked in sherry, garlic, and spices. It is usually served as a tapa and pairs well with a glass of Fino sherry.
Tortillitas de Camarones: A popular seafood dish made with shrimp, flour, egg, and parsley, best enjoyed with a glass of Manzanilla sherry.
Chicharrones: Deep-fried pork belly or pork rinds that are crispy and flavourful. Goes well with a glass of Amontillado or Oloroso sherry.
Gazpacho: A cold soup made with tomatoes, peppers, cucumbers, garlic, and bread. A refreshing dish that is perfect for the hot summer months.
Arroz con Pollo: A rice dish made with chicken, saffron, and vegetables. It is a hearty and filling dish that is perfect for a satisfying lunch or dinner.
Some of the best restaurants in the city to check out include La Cruz Blanca, El Faro, Albores, and La Carboná. If you're visiting during peak period and have your heart set on a particular restaurant, it's a good idea to make a reservation in advance.
Want to sample the best of Jerez in a short amount of time? This Jerez tapas tour will introduce you to the best local spots and dishes. Enjoy 3 tapas and 3 drinks and indulge in Jerez's fabulous gastronomy. It's a fantastic way to spend an evening!
Street Food in Jerez
Prefer more casual food options? Jerez de la Frontera has a vibrant street food scene that is worth exploring.
Here are some of the best street food options in the city:
Churros: A sweet treat made with fried dough that is crispy on the outside and soft on the inside. They are usually served with hot chocolate or café con leche.
Montaditos : Small sandwiches that are usually served as a tapa. They come in a variety of flavours and are perfect for a quick snack!
Papas Aliñás: A cold potato salad that is usually served as a tapa. It is made with potatoes, onions, olives, and olive oil.
Boquerones: Fresh anchovies that are usually served marinated in vinegar and olive oil. They are a popular tapa and pair well with a glass of Manzanilla sherry.
Local Markets & Food Shopping in Jerez
A visit to Jerez's thriving markets illustrates why the food here is so great.
Situated in the heart of the city, Mercado Central de Abastos is Jerez's main market. Housed in a historical building, the market brims with stalls offering fresh seafood, meats, fruits, vegetables, and other regional products. It's a bustling hub where locals and tourists come together, with merchants proudly displaying their produce.
A lesser-known gem, Mercado de San Benito offers a quieter but equally vibrant shopping experience. Apart from the usual fresh produce, this market also boasts stalls selling traditional Andalucian delicacies and pastries.
Scattered across Jerez are numerous specialty shops offering regional treats . From artisan cheeses and cured meats to traditional sweets and pastries, these shops are treasure troves of gastronomic delights. Don't miss trying "turrón" (nougat), "mantecados" (shortbread cookies), and locally-produced olive oils.
Tip: Local markets in Jerez are most lively in the morning, offering the freshest produce. They're typically closed on Sundays.If looking for specific regional delicacies, ask locals for shop recommendations – they often know the best-hidden gems. Remember to bring reusable bags, as many stalls and shops in Jerez are environmentally conscious and may not offer plastic bags.
Outdoor Activities in Jerez De La Frontera
Jerez de la Frontera is not only famous for its sherry bodegas and horse shows but also for its beautiful outdoor activities. Here are some of the best outdoor activities you can enjoy during your visit to Jerez de la Frontera.
Beaches near Jerez
Jerez de la Frontera is located near the coast, so there are several beaches you can visit.
Playa de la Victoria: This Cadiz beach is known for its golden sand and crystal-clear water. It is a perfect place to relax and enjoy the sun.
Playa de la Barrosa: Head to Chiclana de la Frontera for this gorgeous beach with its long stretch of fine sand and calm waters. It is an ideal place for swimming and sunbathing.
Playa de Valdelagrana: Located in El Puerto de Santa Maria, this beach boasts shallow waters and fine sand, making it a family-friendly beach destination.
Parks in Jerez
Jerez de la Frontera has several parks where you can enjoy a picnic or a walk.
Parque Gonzalez Hontoria: Centrally-located park known for its beautiful gardens and fountain, perfect for a relaxing walk.
Parque Zoologico y Botanico: This botanical garden and zoo is an ideal destination for families with children.
Parque Natural Sierra de Grazalema: Hiking and bird-watching lovers will love this natural park that's not too far from Jerez.
Hiking Trails near Jerez
Jerez de la Frontera is surrounded by beautiful countryside, so there are several hiking trails you can explore, particularly in Sierra de Grazalema. Sendero del Rio Majaceite and Sendero de la Garganta Verde are two great options for a day hike near Jerez.
Shopping in Jerez De La Frontera
The centre of town is full of pedestrian streets with busy big name stores in between small bodegas where you can partake of the sherries and brandies from all the bodegas in town if you so wish. Shops observe the siesta so open in the evenings until 8.00pm or later.
If you're looking for souvenirs or unique items to bring home from Jerez, here are some ideas:
Jerez has a longstanding tradition of exquisite ceramics and pottery. Stroll through the city's historic centre, and you'll find artisanal shops showcasing beautifully hand-painted plates, decorative tiles, and ornamental pieces.
No trip to Jerez is complete without buying its world-renowned sherry or wine. Local bodegas often have their own shops where you can sample and purchase bottles of different varieties. For a unique gift, look for aged sherries or limited-edition wines.
Given Jerez's fame in the equestrian world, equestrian-themed souvenirs are aplenty. From leather goods, such as saddles and boots, to miniature horse figurines and themed jewellery, there's a range of products to choose from.
Celebrate Jerez's vibrant flamenco scene with memorabilia like traditional flamenco dresses, hand-crafted castanets, or CDs of local flamenco artists.
Jerez boasts specialty food shops offering regional treats perfect for gifting. Think almond-studded turrones, aromatic olive oils, or even gourmet salts flavoured with local herbs.
If you prefer modern shopping malls, one of the most popular is the Luz Shopping Centre. This mall has over 100 stores, including international brands such as Zara, Mango, and H&M. You can also find a variety of restaurants and a cinema.
Another popular mall is the Área Sur Shopping Centre. This mall has over 70 stores, including popular brands such as Primark, Pull & Bear, and Bershka.
Ferias and Festivals in Jerez de la Frontera
Jerez de la Frontera is becoming famous for its ferias and festivals.
In early May, thousands of motorcyclists from all over the world congregate for the Jerez MotoGP Grand Prix motorcycle racing event that is held at the Circuito de Jerez. This is one of the most watched races in Europe. The thrilling races combined with the festive atmosphere make it a standout sporting event in Spain's calendar.
Just after the MotoGP, usually towards the end of May, is the Feria del Caballo, sometimes called the Feria de Jerez, one of the most important fairs in Cadiz province.
This is celebrated in the Parque Gonzalez Hontoria. It dates back to Mediaeval times when local farmers gathered to sell their animals, often horses. Bars and restaurants are erected in the park. They are called 'casitas'. In between admiring the animals or taking a turn on the fairground rides, you can wander in and out of the casetas sampling the food and drink. Do not forget to ask for fino sherry.
During the last week of Lent, Jerez, as with many Andalucian towns, commemorates the Passion of Jesus Christ. The Catholic brotherhoods within the town perform penance processions through the streets.
In early March, look out for the Festival de Jerez is a two-week extravaganza of all things flamenco, dancing, live music, eating and drinking.
Sherry lovers, mark out September as the Sherry Wine Festival (Fiesta de la Vendimia) begins on the first weekend of the month. Celebrating the grape harvest and Jerez's status as the sherry capital, this festival is a wine lover's dream. Events include the 'First Grape Pressing' ceremony, wine tastings, flamenco shows, and culminate with the election of the 'Grape Harvest Queen'.
Together with the national holidays and saints days, there is hardly a week in the year that Jerez de la Frontera is not celebrating something.
Remember, accommodations and transport can get booked up quickly around these events, so it's wise to plan ahead.
Accommodation in Jerez De La Frontera
Choosing the right place to stay can shape your entire Jerez experience. The city has a range of accommodations that cater to varying preferences and budgets.
For most visitors, I highly recommend staying in the Jerez Historic Centre. The heart of Jerez is dotted with cobbled streets, historic landmarks, and tapas bars and you'll be within walking distance of major attractions such as the Alcazar and the Cathedral.
➡️ Recommended Hotels: Hotel Palacio Garvey | Hotel Bodega Tío Pepe
If you're here for the city's flamenco, then stay in Barrio de Santiago, a traditional neighbourhood renowned for its deep flamenco roots. This is the ideal area for those wanting an authentic Jerez experience amidst historic streets, with local bars offering impromptu flamenco shows.
➡️ Recommended Hotels: Hipotels Sherry Park | Astuto Boutique Jerez - Adults Only
Just popping into Jerez for a short visit? Then staying around the Jerez train station may work best for you. This is a modern part of the city with convenient transport links, particularly if you're travelling to/form Jerez by train. This is ideal if you're prioritising connectivity, especially for day trips outside Jerez. The area also has contemporary amenities and shopping options.
➡️ Recommended Hotels: Suites Alfonso X | Hotel Doña Blanca
For something more secluded and tranquil, head to the Jerez countryside where you can enjoy scenic vineyards and tranquil surroundings a short drive from the city centre. Ideal for those looking for a serene retreat, often in boutique hotels or converted farmhouses, you'll need a car to make the most of your stay in the Andalucian countryside.
➡️ Recommended Hotels: La Cueva Park | Puerta de Algadir
For those travelling on a tight budget, Albergue Inturjoven Jerez de la Frontera and Pension San Andres I are popular choices.
Tip: When booking your accommodation, especially during peak seasons or during major events like the Sherry Wine Festival, it's advisable to book well in advance to secure your preferred choice and get competitive rates.
Frequently Asked Questions About Visiting Jerez de la Frontera
How many days should I spend in Jerez de la Frontera?
Jerez de la Frontera is a relatively small city, so you could see the main attractions in a day or two. However, if you want to fully experience the city's culture, history, and gastronomy, we recommend spending at least three days.
What are the must-see attractions in Jerez de la Frontera?
Jerez de la Frontera is known for its sherry bodegas, so a visit to at least one of them is a must. The Royal Andalusian School of Equestrian Art is another top attraction, where you can watch horses and riders perform traditional dressage. Other must-sees include the Alcázar of Jerez, the Cathedral of San Salvador, and the Archaeological Museum.
What is the best time of year to visit Jerez de la Frontera?
The best time to visit Jerez de la Frontera is during the spring and autumn months when the temperatures are pleasant, and there are fewer crowds. Summer can be very hot, with temperatures reaching over 40°C, and many locals go on holiday during August.
Is Jerez de la Frontera worth visiting?
Absolutely! Jerez de la Frontera is a charming and authentic Andalucian city, with a rich history, culture, and gastronomy. It's also less touristy than other cities in Andalucia, so you can experience the real Spain.
Should I stay in Cadiz or Jerez de la Frontera?
It depends on your preferences. Cadiz is a coastal city with beautiful beaches and a lively atmosphere, while Jerez de la Frontera is an inland city known for its sherry bodegas and equestrian traditions. Both cities are worth visiting, so you could split your time between them or choose the one that suits your interests more.
How can I get from Cadiz port to Jerez de la Frontera?
The easiest way to get from Cadiz port to Jerez de la Frontera is by train. There are frequent trains that depart from Cadiz station and arrive at Jerez de la Frontera station in around 30 minutes. Alternatively, you could take a bus or taxi or rent a car.
More on Jerez de la Frontera
Map of Jerez de La Frontera Hotels
Note: This article may contain affiliate/compensated links. That means that if you book through our link, we may earn a small commission (at no extra cost to you). For full information, please see our disclaimer here.
---
Places to go in Jerez de la Frontera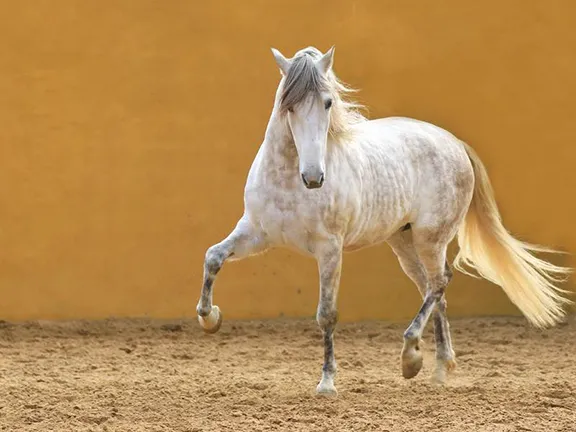 Andalucian Dancing Horses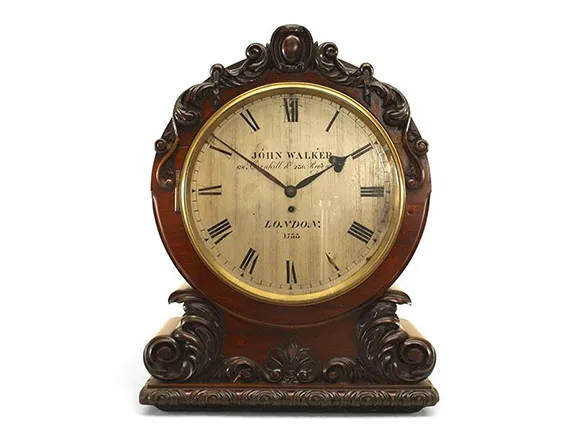 Palace of Time (Clock Museum)
Museums and Galleries in Jerez de la Frontera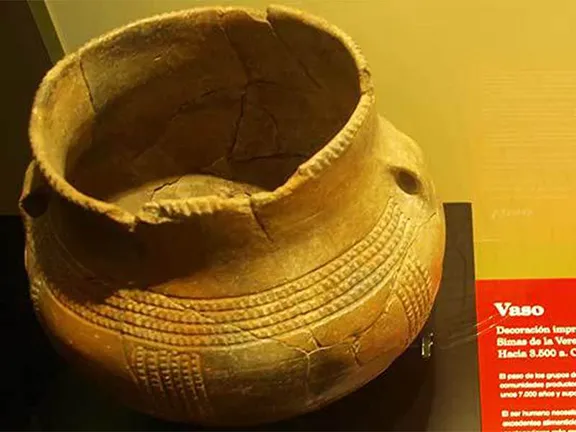 Archaeological Museum
---